AIIMS Rishikesh charges whooping Rs 15,000 as PG exam fee, Doctors see RED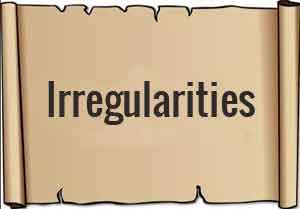 Rishikesh: Opposing against the irregularities in fees charged for PG medical final examination at the Rishikesh branch, the Resident Doctors' Association (RDA) of All India Institute of Medical Sciences (AIIMS), New Delhi has written to the Union Health Ministry.
In the letter, the RDA informed the ministry that the exit fee charged for the same examination at AIIMS, New Delhi is Rs 300, the Postgraduate Institute of Medical Education and Research (PGI), Chandigarh, charges Rs 1.100, while AIIMS Rishikesh charges a whooping Rs 15,000 per exam which totals to Rs 60,000.
The concerned circular issued by the AIIMS Rishikesh authorities is attached below: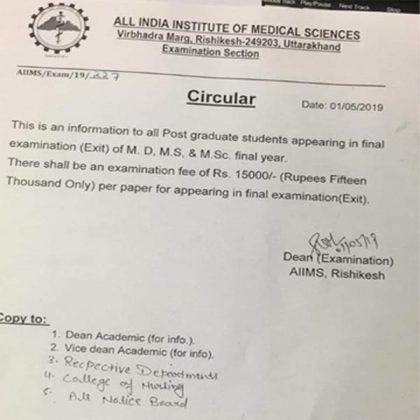 Read Also: AIIMS Rishikesh slapped with Rs 60,000 penalty for False Positive HIV report
The AIIMS RDA President, Dr Amarinder Singh Malhi mentioned in the letter, "We believe that appearing for final exams after fulfilment of all due requirements is the basic right of a resident and charging such exorbitant money for an exam is forceful and organised loot. We also want to highlight the fact that when you compare this fee with AIIMS Delhi, it is beyond logical reasoning," quotes the Hindu.
"AIIMS RDA, New Delhi strongly condemns and opposes this inhuman and unviable exam fee structure," the letter added.
The hospital has first sent out a circular that pegged the examination fee at Rs 30,000, but it was later amended to Rs 15,000, reports the DNA.
Former President of AIIMS Resident Doctors' Association, Dr Vijay Gurjar told the DNA, "I really do not know on what basis AIIMS Rishikesh is extorting money in the name of examination fees. I cannot find any government medical college which is taking more than Rs.1,500 as examination fees. So there should be some rules and regulations from the Central institute body regarding the fees. Health Minister should intervene in this ongoing dictatorship, otherwise, there will be a bad competition between the peripheral AIIMS to increase the fees."
The letter further condemned that the AIIMS Rishikesh did not allow the formation of Resident Doctors' Association due to which the resident doctors lack a platform to raise their voice against the administration.
"RDA is not allowed in AIIMS Rishikesh, which is highly unfair as residents have no proper channel for voicing their grievances against excesses of the administration. Such a decision by the AIIMS Rishikesh administration is hurting the credibility of AIIMS," the letter stated.