Chairman of Private Hospital arrested for not paying Employees, illegal confinement of doctor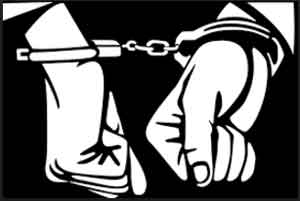 Hyderabad: The chairman associated with a private hospital in the city-Braunwald Hospitals has been recently arrested on ground of cheating over 100 employees by not paying salaries and then later absconding from the place. Besides, the Chairman, Dr Yadav has also been booked in a case of illegal confinement after a doctor working at the hospital alleged he was illegally confined to a room for period of three days by the Chairman and his wife.
According to media reports, a employees working at a well known Poulomi Hospital in AS Rao Nagar lodged a complaint alleging that the management did not pay the doctors and the staff 
salary
for the last 4-5 months.
Read Also: Rural Medical Services in PHCs: Medical Officers Quitting posts due to Unpaid Salaries
The Chairman and his wife had acquired the said hospital in January this year and had appointed fresh appointment orders to over 100 employees working in different wings, reports the
Deccan Herald
.
In February, the management failed to pay the salary to the employees. When they demanded the salary, they were asked to resign.  However, the employees managed to get their salaries but with irregular deduction.
When the management was approached, the Chairman and his wife assured that they will be given the salaries but they did not stand by their words. Soon they went absconding.
The Pet Basheerabad police were approached to file the complaint. Besides cheating, a case was also filed with the police in regards to illegal confinement of a doctor who had come in contact with the duo for provision was medical services. The doctor was allegedly confined to his room by the couple .The accused were booked under section 343 of the IPC.
Based on the complaint filed, the Pet Basheerabad police of Cyberabad commissionerate arrested the chariman in a wrongful restraint case. His wife is still absconding
A Kushaiguda police inspector K Chandra Sekhar told the
TOI
that the complainant staff further alleged that "10 per cent of employees salary was deducted by the management from the February salary. Despite promising to pay the salaries, the April and May salaries weren't paid and Narendra and Divya went absconding. Based on the complaint we registered a cheating case and arrested Narendra from Chennai on May 16."
However, the co accused informed the TOI, "We have been paying salaries from our pocket since January. Because the other party has political contacts, our chairman who oversees Indian Operations has been booked in false cases and arrested without a warrant."