For the use of registered medical practitioner or hospital or laboratory only
Don't wait - VACCINATE
For Influenza
Influvac Tetra more power with Broad protection
Book your now

Now available with latest SH Strain 2023 as recommended by WHO

Most advanced, 3rd generation,

subunit quadrivalent Influenza vaccine with less impurities4,5,6,7

80%-90% seroprotection

with least reactogenecity 8

Prefilled syringe,

ready to use and convenient 7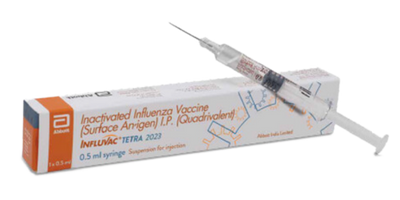 ---
References:
1. Macias A E et al. The disease burden of influenza beyond respiratory illness. Vaccine 2021;39;1:A6-A14
2. Fang Y A et al. Influenza Vaccination Reduces Hospitalization for Heart Failure in Elderly Patients with Chronic Kidney Disease: A Population-Based Cohort Study. Acta Cardiol Sin. 2016 May; 32(3): 290–298.
3. World Health Organization (WHO). Background Paper on Influenza Vaccines and Immunization. SAGE Working Group [Internet] [Cited 2019 Aug 2]. Available at: https://www.who.int/immunization/sage/meetings/2012/april/1 Background_Paper_Mar26_v13_cleaned.pdf.
4. Centers for Disease Control and Prevention. Quadrivalent Influenza Vaccine. [Internet] [Updated 2019 Nov 6] [Cited 2023 Jan 16]. Available at: https://www.cdc.gov/flu/prevent/quadrivalent.htm.
5. Shah R et al. Advantages of Subunit Influenza Vaccine: An Overall Perspective. AJPP. 2018; 1(5): 19-28.
6. Wood JM, Williams MS. History of inactivated Influenza vaccines. In: textbook of influenza. Oxford: Blackwell Science 1998, pp. 317-323.
7. Influvac Tetra PI, Data on file
8. Zuccotti GV, Fabiano V. Influvac, a trivalent inactivated subunit influenza vaccine. Expert Opin Bial Ther 2011;11(1):89-98.