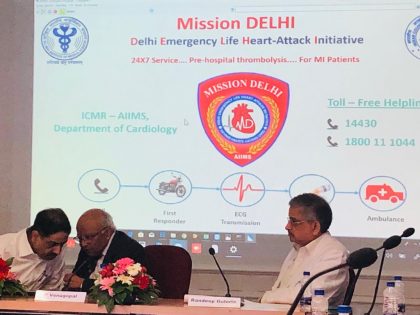 New Delhi: In a major initiative with the Cardiology and Emergency Medicine departments of AIIMS, the Indian Council of Medical Research (ICMR) launched a Pilot Project "Mission DELHI(Delhi Emergency Life Heart-Attack Initiative)'' in a range of 3KM around All India Institute of Medical Sciences (AIIMS) where people may soon be able to call (toll free no's 14430 and 1800111044) for a motorbike-borne emergency medical assistance unit in the eventuality of heart attack or chest pain. The project has institutional support from Cardiology and Emergency Medicine departments of AIIMS and funding from ICMR.
Under this project, a pair of motorcycle-borne Trained Paramedic Nurses would be the first responders for treating Heart Attack patients. On getting the call, the pair would rush to the spot, gather basic information on his or her medical history conduct a quick medical examination, take the ECG of the patient, and establish a virtual connect to the cardiologists at AIIMS and deliver expert medical advice and treatment.
While the emergency treatment is being provided, a CATS ambulance will arrive and take the patient for further treatment. Even as the patient is on way to the hospital, qualified doctors posted round the clock at the control centre at AIIMS will evaluate the data received from the nurses to establish further, course of treatment as soon as the patient reaches the Hospital.
The idea of the project (motorcycle-borne) is to reach with medical help much faster, given the high-density traffic conditions in the city where the movement of four-wheeler ambulances becomes difficult.
Dr Venugopal Ex Director AIIMS launched the project and said that the project means doorstep cardiac care model wherein timely emergency treatment will reach the patient before the condition gets worse.
At the launch of the project, DG ICMR Prof Balram Bhargava explained that the heart is like a room that pumps blood to the entire body. Before the blood is pumped to the body, it is pumped to the walls of the heart through three pipes (coronary arteries). If any of these pipes are clogged by clot the tissues in that part of the heart will die. It is important to remove the clot that is stopping the blood flow. If the heart walls are damaged, they cannot be repaired. Clot-busters are almost equal to angioplasty. Clot buster medication is a low-cost treatment whereas angioplasty is expensive. Clot-busters can be given within a short time after a heart attack.
In this project, the clot buster will be given very soon even at home. Mission Delhi focuses on the importance of timely response and doorstep Health care "saving heart in time is the philosophy behind the programme" Prof Bhargava added.
Director AIIMS Dr Randeep Guleria said that as there is a need of strategy change to save cardio patients the Pilot project is started. We also need to see the shortcomings of this pilot project if any and then overcome those for starting a nationwide project.
Also Read: ICMR guidelines for candida auris infection treatment and management
0 comment(s) on Mission DELHI: ICMR, AIIMS launch pilot project for dealing with emergency of heart attack, Release Helpline No