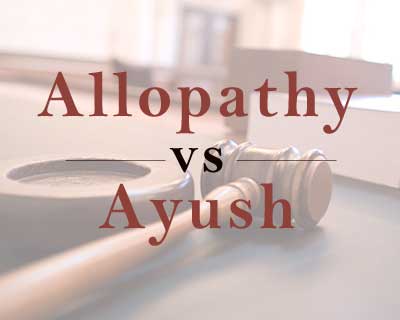 NO Coercive Action against ISM practitioners for practising Modern Medicine, says Supreme Court
New Delhi: In a major interim relief to practitioners of Integrated Systems of Medicine (ISM), who indulge in the practice of modern system of medicine and then face legal action including arrest warrants for violations of law, the Supreme court has recently held that no coercive action shall be taken against such practitioners no coercive action shall be taken against persons till a decision is reached by the hon'ble court in the matter.
The court was responding to the plea made by All India Indian Medicines Graduate Association which had filed an SLP challenging the 2016 Delhi HC order that clearly stated that ISM practitioners cannot prescribe allopathic medicines. Seeking interim relief, Sr Advocate Harish Salve who was appearing for association stated that while the during the pendency of the matter with the Supreme Court, practitioners of ISM were facing actions including penal action from the police for prescribing allopathic medicines.
The court providing interim relief to such practitioners noted,
"In the meanwhile, no coercive action shall be taken against persons who are practising the Integrated System of Medicine pursuant to degrees/diplomas that have been obtained from Universities which are recognized for teaching the same."
Informing Medical Dialogues team about the hearing, Adv Ashish Kothari of Krida Legal, the lawyer representing allopathic practitioner association stated," The matter came up for hearing before Hon'ble Mr. Justice Rohington Nariman and Hon'ble Ms. Indu Malhotra for admission hearing. Mr. Harish Salve, senior advocate appeared for petitioners. He informed the court that FIRs are being filed against practitioners of integrated medicine pursuant to Delhi high court order and requested for an order to protect practitioners of integrated medicine from coercive action. The Hon'ble Court acknowledged that the issue in question has been going on since last several years and needs consideration. Accordingly, the Hon'ble Court granted leave to the Petitioners and admitted the SLP. The Hon'ble Court further directed that during the pendency of the matter, no coercive action should be taken against practitioners of integrated medicine."
" This is an interim relief till the Hon'ble Supreme Court decides on the matter," Kothari explained
Medical Dialogues team had earlier reported that In 2016, the Delhi High Court, responding to this age-old debate of whether ISM practitioners can prescribe Allopathic medicine had clearly held that "no practitioner of Indian System of Medicine or holding a qualification as listed in the Schedule to the Indian Medicine Central Council Act, 1970, even if it be of in integrated medicine as defined in Section 2(h) of the Delhi Bharatiya Chikitsa Parishad Act, 1998, is entitled to practice modern scientific system of medicine as defined in the Indian Medical Council Act, 1956 read with Indian Medical Degrees Act, 1916 and as has come to be known as Allopathic system of medicine."
Read Also: BIMS, BUMS, BAMS cannot prescribe allopathic medicines: High Court
Challenging this judgement in the Supreme Court, the petition filed by ISM practitioners pointed out that practitioners of Integrated systems of medicine undergo training in both Modern Medicine and Indian System of Medicine during their course of study also referring to definitions in Section 2(b) and 2(h) of Delhi Bharatiya Chikitsa Parishad Act, 1998 (DBCP Act, 2018)
35 comment(s) on No Action against AYUSH for practicing allopathy: Supreme court