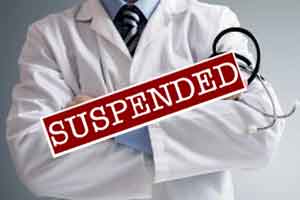 Thiruvananthapuram: A suspension order has been issued to a consultant surgeon associated with a government hospital for allegedly performing a hernia surgery on a 7-year-old boy instead of removing a growth in his nasal passage. This allegedly happened due to a similarity in the names of two patients.
According to media reports, the 7-year-old patient was taken to a  Manjeri Medical College Hospital in Malappuram district to get his cyst removed from his nasal passage but he was operated for a hernia at the facility. This incident came into light when his parents saw their son operated in the stomach, instead of removing his nasal polyps.
Hospital sources told PTI that there was another patient, who was supposed to undergo surgery for hernia, and the mistake occurred due to the similarity in their names.
State Health Minister K K Shylaja ordered a probe and suspended the doctor. "Patients must not suffer due to the negligence of the hospital staff," the minister said, adding that the boy would be given free treatment.
"There will be no leniency shown on those who err when they engage in treating patients. Those treating patients should do it with the utmost care. A detailed probe has been ordered and the boy will now be treated at state government's expenses," the Health Minister further added.
Following the incident, the surgeon had first defended his move saying the boy had a hernia and the surgery was performed to remove that. However, he later admitted to his mistake, reports IANS.
State Human Rights Commission (SHRC) registered a suo motu case against the doctors for medical negligence in the incident.
"There is serious negligence on behalf of the staff including the doctor," rights panel member K Mohan Kumar said in his interim order. Kumar asked the medical college superintendent to submit a report with the statements of all the staff present inside the operation theatre.
Read Also: Haryana: Female Doctor Suspended for being Drunk on Duty
Medical Dialogues is a dedicated Medical Newsportal in India. Our team efforts to bring you updated and timely news about the important happenings of the medical and healthcare sector. Our editorial team can be reached at editorial@medicaldialogues.in
0 comment(s) on Paediatric Patient goes for nasal surgery, Doctor operates on hernia; Suspended