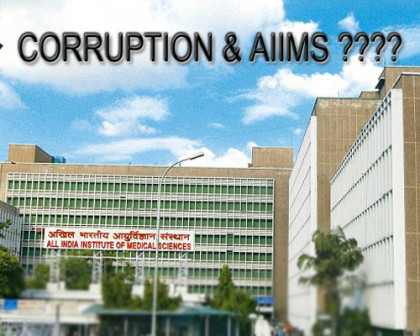 The parliamentary standing committee on Health and Family welfare has signaled the health ministry on its disappointment at handling corruption at AIIMS
After the untimely removal of the Chief Vigilance Officer (CVO) at AIIMS, Sanjeev Chaturvedi which created uproar in the media recently for his bold attempts to expose the corruption at AIIMS; the department parliamentary standing committee on Health and Family Welfare has hinted to another untoward situation. The committee is reported to have expressed clear disappointment over the corruption issues being tackled by the Ministry of Health.
Citing clearly few cases brought to the notice of the committee including, disproportionate asset cases, procurement of computers and peripherals without following the purchase procedure, and alleged financial irregularities; the committee holds a firm opinion that without a CVO at AIIMS nothing can be brought to a serious conclusion.
The committee has further notified the ministry to play a more active role in tacking corruption at India's premier institute, and as a step forward, submit a status report in the next three months.(With inputs from the Hindu)
0 comment(s) on Parliamentary House Committee signals govt to tackle corruption at AIIMS