Pharma Sponsored Trips: Orthopedic Surgeon suspended for one year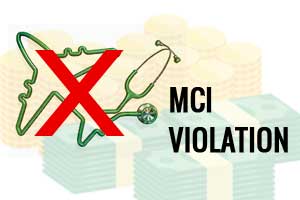 New Delhi: Through a recent decision, the Delhi Medical Council has upheld the one-year suspension of Dr Naval Bhatia, Orthopedic Specialist at Safdarjung Sports Injury Centre that was awarded by
MCI
after it held the doctor guilty for taking a sponsored trip from an orthopaedic implant maker to attend a conference
The incident goes back to the year 2014, when Dr. Bhatia went on a trip to Hong Kong. As per an earlier report in
DNA
,  Dr Bhatia's tour expenses including flight ticket and lodging and boarding, were paid for by M/s Stryker India, a company which manufactures implants. The right thing was he should have sought a "no-objection" from the government, which is mandatory for a doctor in a government hospital. To evade that rule, Dr Bhatia assumed the identity of a consultant of Primus hospital, thus misrepresenting facts, leaving him open to the charge of impersonation, added the media report.


A complaint was filed against the doctor with the Delhi Medical Council, and after going through the facts of the case, the state medical council awarded him a suspension of 3 months

"Both Dr. Bhatia and one of the complainants appealed to the MCI. While Dr. Bhatia said his punishment was too harsh, the complainant maintained the DMC was too lenient. The MCI ordered that Dr. Bhatia not be allowed to practice for one year and that has been brought into action," Dr. Tyagi told the Hindu.

The Delhi Medical Council in its recent meeting on Wednesday upheld the order of the MCI awarding the one-year suspension


" Since the doctor has already served a suspension of 3 months as per our earlier order, We have now removed his name from the medical register for another period of 275 days ( 9 months) to make the total punishment 1 year as per the MCI order," Dr Tyagi informed Medical Dialogues
Taking sponsorships from a pharma/device makers for purpose of travel stands as a violation of the MCI code of ethics. As per the MCI code of Ethics clause 6.8.1
In dealing with Pharmaceutical and allied health sector industry, a medical practitioner shall follow and adhere to the stipulations (Travel facilities)- A medical practitioner shall not accept any travel facility inside the country or outside, including rail, air, ship , cruise tickets, paid vacations etc. from any pharmaceutical or allied healthcare industry or their representatives for self and family members for vacation or for attending conferences, seminars, workshops, CME programme etc as a delegate.