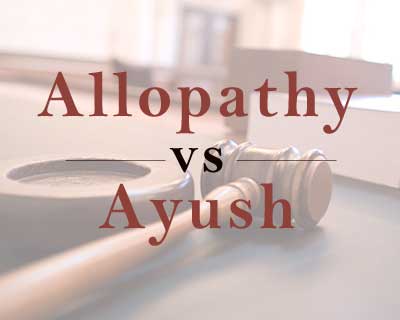 New Delhi: While allopathic practitioners across the country have shown their objections to cross-pathy, opposing practitioners of Indian Systems of Medicine including Ayurveda and Homeopathy prescribing allopathic drugs, many modern medicine doctors themselves are indulging in cross pathy by preceding ayurvedic medicines to their patients.
Drawing attention to this fact, a Delhi Medical Council warning is seen telling its allopathic members not to prescribe ayurvedic medicines name some commonly prescribed medicines including LIV 52, Cystone, Septiline, M2 Tone, Amlycure Ds, Neeri, Amycoridial etc.
Doctors registered with Delhi Medical Council (DMC) are hereby directed not to practice or prescribe Ayurvedic drugs like LIV52, Cystone, Septilin, M2 Tone, Amlycure Ds., Neeri, Amycordial etc. It is a punishable office under Delhi Bhartiaya Chikitsa Parishad Act, 1998.
This comes in light of the fact that practitioners of allopathic medicines in the capital are not registered with the respective council of Ayurveda, and hence prescribing Ayurveda medicines in these circumstances would lead to an offence under the Delhi Bhartiaya Chikitsa Parishad Act, 1998
 Section 30 : False assumption of Medical Practitioner under this Act to be an offence.Any person who falsely assumes that he is a practitioner as defined in clause (k) of section 2 and practices Bhartiya Chikitsa (Indian System of Medicine), shall be punishable with rigorous imprisonment which may extend up to three years and with five which may extend up to Rupees fifty thousand.
Explaining the Guidance, Dr Girish Tyagi, Registrar, Delhi Medical Council explained,"Under the law, Crosspathy is not allowed, whether it is Ayush practitioners prescribing allopathic medicines,or  vice versa. Allopathy Doctors prescribing ayurveda medicines are punishable under the Delhi Bhartiaya Chikitsa Parishad Act, 1998 and the Ayurveda Council can take action against such doctors.
Ayurvedic medicines are commonly supplemented with allopathic prescriptions, and have also found their way in government hospital supplies. Commonly used ayurvedic medicines include  Liv 52 which is an ayurvedic medicine, used commonly to improve liver functions, while cystone is widely used for ayurvedic management of url-genital diseases including Kidney stones. Septilin is an immunity boosting medicine and M2 tone is used in patients with irregular periods
Attached is the notice below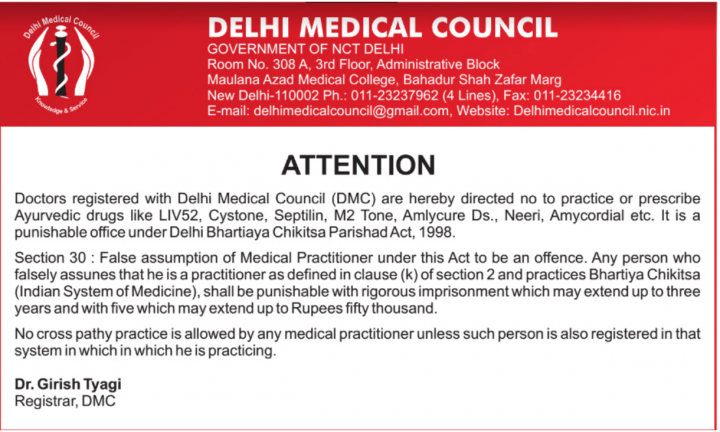 57 comment(s) on Prescribing Liv 52, Septillion, etc may land you to Jail: Medical Council Warns its Doctors