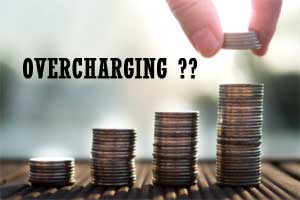 660 Synringes (40 per day), 2700 gloves were billed for, alleged the family 
Gurugram:  The Gurugram Branch of Fortis Hospitals has now found itself mired in controversies  after a tweet by relative of a deceased 7- year old girl went viral of social media. The Gurugram hospital allegedly charged the family of a seven-year-old dengue patient, who later died, almost Rs 18 lakh for 15 days in the ICU. The incident has also drawn attention of the Union Health Minister, Shri JP Nadda who has asked for details of the case to conduct further inquiry into the matter
The family of the deceased, Adya Singh, alleged that the doctors continued her treatment in the ICU, in full knowledge that her condition had deteriorated beyond cure.
Singh said that the doctors in Fortis Hospital finally conducted an MRI test on his insistence, and told the family that "nothing could be done anymore as her brain was 70 to 80 percent dead."
The father of the victim also said that they were slapped a bill of Rs 16 lakh without a day-wise breakdown.
After the patient's death, the hospital also denied an ambulance for the deceased child and refused to give a death certificate citing that the rule of Leaving Against Medical Advice (LAMA) had applied in this case. The family was also told to get a birth certificate from another hospital, alleged the father.
"Now I find that the rule cited is wrong," Singh added.
Singh informed that the child was first admitted to Rockland Hospital, and later shifted to Fortis Hospital, but cause of her death has not been accounted in either of the hospitals.
"Fortis has not reported the casualty and Rockland gave me a 'brought dead' certificate. None of the hospitals has mentioned the cause of death as dengue," he said.
Meanwhile, Fortis hospital in a statement claimed that "all standard medical protocols were followed in treating the patient and all clinical guidelines were adhered to".
"She was admitted with Severe Dengue which progressed to Dengue shock syndrome and was managed on IV fluids and supportive treatment as there was a progressive fall in platelet count and hemoconcentration.
"As her condition deteriorated, she had to be put on ventilatory support within 48 hours," the hospital said in a statement.
On September 14, the family decided to "take her away from the hospital against medical advice (LAMA – Leave Against Medical Advice) and she succumbed the same day," it said.
The hospital said an itemised bill "spread over 20 pages was explained and handed over to the family" at the time of their departure from the hospital.
All consumables are transparently reflected in records and charged as per actuals, it claimed.
The grieving father further urged the medical fraternity to investigate the matter and determine if the case was of deliberate negligence in order to cheat them of money or the 15-day treatment was actually justified.
Nadda seeks report
Union Health Minister JP Nadda took note of alleged overcharging by a Gurgaon-based private hospital from family members of a patient, who reportedly died of dengue recently.
Please provide me details on hfwminister@gov.in .We will take all the necessary action. https://t.co/dq273L66cK

— Jagat Prakash Nadda (@JPNadda) November 20, 2017
A Twitter user @DopeFloat in a posted alleging that the hospital "charged Rs. 18 lakh" for 15 days of treatment of dengue for a young daughter of his friend.
The tweet later went viral on social media.
"One of my batchmate's 7 year old was in @fortis_hospital for ~15 days for Dengue. Billed 18 lakhs including for 2700 gloves. She passed away at the end of it…," he tweeted.
After the post was widely circulated on social media, the Union health minister on twitter said: "Please provide me details on hfwminister@gov.in . We will take all the necessary action." Media reports state, that the minister has directed the health ministry to look into the matter
4 comment(s) on Fortis Hospital bills Rs 18 lakh for 15 days dengue treatment, Nadda seeks report