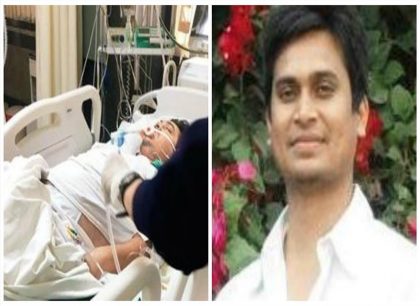 Mumbai : In an unfortunate incident, a resident doctor with the Orthopedic department at  JJ Hospital has become critical after he mistakenly consumed formalin, thinking it to be water. Soon after gulping the liquid, the doctor collapsed and had to be rushed for emergency treatment
The incident goes back to Tuesday, where the resident doctor, Ujjwal Ramteke, 27  had come to the duty doctor's room searching for water after a day long's orthopedic surgery. He asked the nurse for water and she handed over a  unlabeled bottle containing a colorless liquid assuming to be water. It is assumed that in a bid to quench his thirst, he did not even notice the pungent smell that formalin takes out before it was too late.
"Ramteke collapsed within seconds, complaining of severe burning sensation and pain in abdomen. Formalin is a human carcinogen used in fumigating the operation theatre, and it was later revealed the bottle contained 40% of it," one of Ramteke's colleagues told Mumbai Mirror.
He was soon shifted to the Bombay Hospital for dialysis and unfortunately has been on ventilator since then.
A recent report in Asian Age states that the condition of the doctor continues to be critical . Speaking to The Asian Age, Dr Sagar Sakle, spokesperson of Bombay Hospital, said "He is still kept in Intensive Care Unit (ICU) and his condition is critical. His internal organs have been affected after he consumed formalin. Our team is giving him the best possible treatment." Dr. Eknath D. Pawar, head of the orthopaedics department, Bombay Hospital, said, "Ramteke has been kept under observation and is yet to regain consciousness." Dr. Pawar has denied allegations that the drug was consumed in a bid to commit suicide.
Dr. Pawar added, "He is still on ventilator support. His condition is improving slightly but he will take some time to regain a full state of consciousness. They removed the ventilator for a few minutes but he was unable to breathe. So he was put on ventilator again. He would be kept on ventilator support for a couple of days."
Another update of the doctor in Mirror adds, that because Ramteke consumed around 100 ml of the chemical, and because of its high levels of toxicity, he has developed hypoxia, which is a condition wherein the body or the affected area is deprived of adequate oxygen supply. "There is also a slight damage to the food pipe. He will have to undergo bronchoscopy to evaluate the damage," a doctor from the Bombay Hospital said.
The hospital has ordered an inquiry into the matter as to why the unlabeled bottle containing the colourless chemical was kept in the doctors' room abutting the operation theatre. The local police is reported to have taken statements from the nurses, ward boys and doctors present in the operation theatre to rule out the suicide bid.
"I have addressed all department heads and the nurses in-charge of the operation theatre to ensure these chemicals are stored properly. Ramteke is being treated at the Bombay Hospital on his family's insistence and we are in touch with the doctors there," Lahane said.
20 comment(s) on Unfortunate: Doctor mistakenly drinks formalin instead of water, now critical