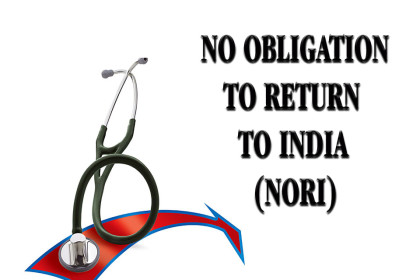 In a fresh development in the pending writ petition filed by MARD at the Bombay High court, Aurangabad Bench on the NORI Issue, the corum of judges of S.V Gangapurwala and A.M Badar,J have severly reprimanded the Union of India for not filing a timely reply affidavit in the court.
Mumbai: In the month of August, 2015, medical fraternity of the country had received of shock, when the government decided  not to issue the No obligation to return to India ( NORI) certificate, to doctors going abroad. This certificate is mandatory under law for doctors aspiring to study and gain work experience outside the country. The reasoning given by the government, was pointing out towards shortage of doctors in the country and to prevent the subsequent brain drain of doctors.
Read Also : Government not to issue 'No objection' certificate for migrating doctors
The move of the government had instantly met with disapproval and agitation from the medical professionals and medical students alike who had retorted by pointing out that government was singelling out doctors as soft targets and the entire reasoning of brain drain that the government is citing is flawed. Maharashtra Association of Resident Doctors, in response had filed a writ petition in Bombay High Court asking the court's intervention in revoking this decision calling it unconstitutional. Court had directed the government to file a reply within a week from the date of hearing in this regard.
Read Also: Doctors in India- "Our Constitutional Right is in Danger"
However, its been four months, and around three-four hearings have passed where the case is always adjourned, with the respondents from the government  asking for additional time to file a reply. However, in the last hearing held on 18th January,2016, the division bench of judges S.V Gangapurwala and A.M Badar,J have severely reprimanded the counsel appearing for the Union of India, giving the government a final last chance to file a reply by 15th February,2016.
Speaking to Medical Dialogues Team, Dr Sagar Mundada, President MARD, petitioner said, " The court has heard the case multiple times now. However, even after four months, the union of India is not filing a reply and is just giving verbal arguments. This delaying tactic clearly shows that the basis with which government had passed this order earlier is clearly unconstitutional. The court has now given final ultimatum to the government to file a reply, failing which he case will be quashed and the ban will be removed."
Attached is the copy of the order:-
Read Also: Bombay High Court slams government on NORI issue