United Nations Development Programme
Guwahati: Assam has witnessed a "steady and continuous improvement" in human development with its latest Human Development Index (HDI) est...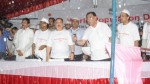 New Delhi, July 11 : Today is World Population Day. A day designated to remind everyone about the growing population of the world and their issues the...
Featured Jobs
Opinion Polls
Should Government Doctors be allowed to do Private Practice?