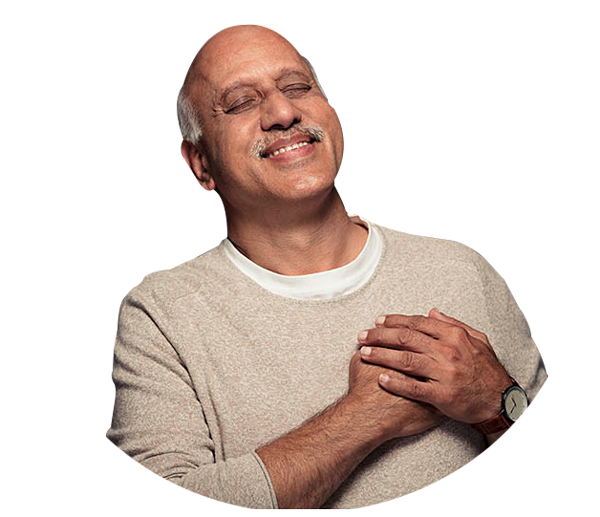 Heart failure is a progressive chronic syndrome characterized by decrease in functional status and quality of life1.
The burden of heart failure has increased to an estimated 23 million people, worldwide. In India, the prevalence was estimated to be around 1.2/1000 people in the INDUS study....
As prevalence rates of heart failure are high and expected to rise in the near future because of improved survival from acute cardiac events and the aging of the general population, thus HF management has come to the front-stage of non-communicable disease management programmes.
Once developed, heart failure has a 1-year mortality rate of 7.2% and a 1-year hospitalization rate of 31.9% in patients with chronic heart failure, and in patients hospitalized for acute heart failure, these rates increase to 17.4% and 43.9%2.
The pathophysiology of heart failure involves a maladaptive response during which the renin-angiotensin-aldosterone system (RAAS) is activated3.
RAAS activation leads to vasoconstriction, hypertension, increased aldosterone levels, increased sympathetic tone, and eventually, cardiac remodeling, all of which are detrimental to the progression of the disease3.
---
Indication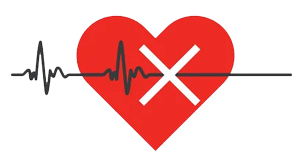 Heart Failure
To reduce the risk of cardiovascular death and hospitalization for heart failure in patients with chronic heart failure (NYHA Class II-IV) and reduced ejection fraction.
Understanding Heart Failure in India
Guidlines defined for the treatment of Heart Failure
Quick Review- Role of ARNI in Heart Failure final
Decoding the clinical Evidence for Sacubitril Valsartan in Heart Failure
The Drug Review Sacubitril Valsartan
Azmarda contains Sacubitril/Valsartan, the first agent to be approved in a new class of drugs called angiotensin receptor neprilysin inhibitor (ARNI)3.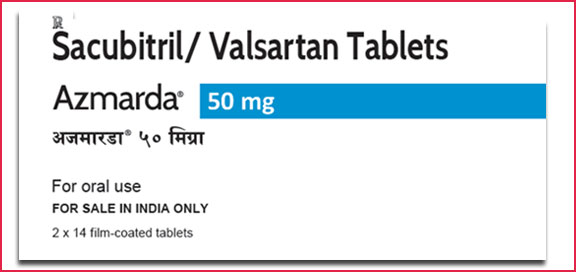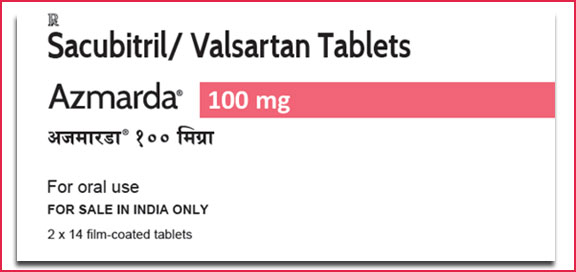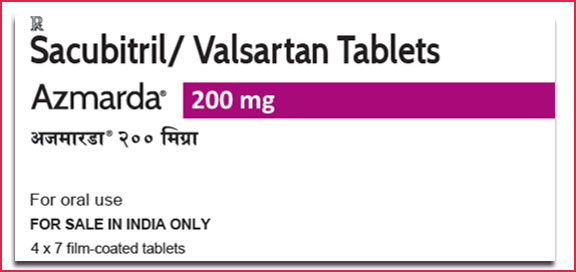 How Azmarda Works?
Sacubitril acts as a neprilysin inhibitor by preventing the breakdown of natriuretic peptides. This leads to a prolonged duration of the favorable effects of these peptides. Valsartan is an angiotensin receptor blocker, and it works by blocking the renin-angiotensin-aldosterone system3.
Composition

Pharmacokinetics of Azmarda4
Absorption
Following oral administration, Azmarda dissociates into sacubitril, which is further metabolized to sacubitrilat, and valsartan, which reach peak plasma concentrations in 0.5 hours, 2 hours, and 1.5 hours, respectively.
The oral absolute bioavailability of sacubitril and valsartan is estimated to be ≥ 60% and 23%, respectively. Azmarda can be administered with or without food.
Distribution
Azmarda is highly bound to plasma proteins (94% - 97%). Based on the comparison of plasma and CSF exposures, sacubitrilat does cross the blood brain barrier to a limited extent (0.28%).
Azmarda has an apparent volume of distribution ranging from 75L to 103L.
Biotransformation/metabolism
Sacubitril is readily converted to sacubitrilat by esterases; sacubitrilat is not further metabolized to a significant extent.

Valsartan is minimally metabolized, as only about 20% of the dose is recovered as metabolites.
Elimination
Following oral administration, 52 to 68% of sacubitril (primarily as sacubitrilat) and ~13% of valsartan and its metabolites are excreted in urine; 37 to 48% of sacubitril (primarily as sacubitrilat), and 86% of valsartan and its metabolites are excreted in feces. Sacubitril, sacubitrilat, and valsartan are eliminated from plasma with a mean elimination half-life (T1/2) of approximately 1.43 hours, 11.48 hours, and 9.90 hours, respectively.
---
Dosage
The recommended starting dose of AZMARDA is 100 mg twice daily.
A starting dose of 50 mg twice daily is recommended for patients not currently taking an angiotensin-converting enzyme (ACE) inhibitor or an angiotensin II receptor blocker (ARB), and should be considered for patients previously taking low doses of these agents.
The dose of AZMARDA should be doubled every 2-4 weeks to the target dose of 200 mg twice daily, as tolerated by the patient.
---
References
1. Chaturvedi V, Parakh N, Seth S, et al. Heart failure in India: The INDUS (INDiaUkieri Study) study. J PractCardiovascSci2016;2:28-35 2. Murphy SP, Ibrahim NE, Januzzi JL Jr. Heart Failure With Reduced Ejection Fraction: A Review. JAMA. 2020 Aug 4;324(5):488-504 3. Nicolas D, Kerndt CC, Reed M. Sacubitril/Valsartan. [Updated 2021 Jul 26]. In: StatPearls [Internet]. Treasure Island (FL): StatPearls Publishing; 2022 4. Ayalasomayajula, S., Langenickel, T., Pal, P., et.al (2017). Clinical Pharmacokinetics of Sacubitril/Valsartan (LCZ696): A Novel Angiotensin Receptor-Neprilysin Inhibitor. Clinical pharmacokinetics, 56(12), 1461–1478.