1 rupee clinic doctor helps deliver baby on-board Mumbai local train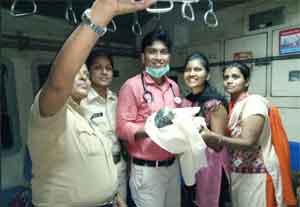 Mumbai: A 26-year-old woman Salma Shaikh delivered a baby girl on platform 3 of Mumbai's Dadar Station last night, thanks to the One-rupee Clinic doctor who boarded the train to perform the delivery.
The train was en route CST from Kalyan when the woman began having labour pains. The one ruppee clinic duty doctor, Dr Prajwaleet Kambli boarded the train to help the woman. Seeing that the baby was crowning the doctor decided to perform the delivery inside the ladies compartment
Soon after the delivery, the mother and newborn baby were shifted to the nearby KEM hospital for further treatment. Their condition is now stable.Dr Prajwalit, a female GRP officer and a few others.
The doctor was assisted by a female GRP officer and a few others in performing the delivery.
The brainchild of of Dr Rahul Ghule and his elder brother Dr Amol Ghule, one ruppee clinics established at different stations on Mumbai are aimed at providing emergency help to railway accident victims as well as give medical treatment to the general public.