Unfortunate: 100 bedded hospital manned by only ONE Doctor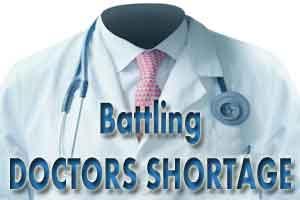 Haridwar: Bringing forward the glaring shortage of medical practitioners in the country, is an example of one Haridwar Hospital, which while being a 100-bedded facility is manned by only one Doctor.
A recent report in TOI focuses on the story of  Mela hospital at Haridwar, which was created as a permanent asset with funds made available during the 1998 Kumbh mela, and is operating with a single doctor.
 The hospital was set up as a 100 bedded facility in 2003, with an intention to support the district hospital in Haridwar and reducing its load of local as well as the visiting population. It was equipped with the latest machinery including pathology laboratory, ultra sound and x-ray units, ECG and intensive care unit. Unfortunately, Manpower soon became the achillees heel of the hospital, with currently only one doctor manning the facility.
Dr H K Singh, a skin specialist, is the lone doctor at the 100-bedded hospital which has sanctioned posts of 15 doctors, reports TOI. With only one doctor left at the facility and uncertain future on hiring, OPD at the hospital are estimated 150-200 patients a day, down from a number of 700-800, in the early days of operation of the hospital. No admissions take place, and the lone soldier, Dr HK Singh tends to all kinds of patients at the hospital.
Shortage of Doctors has indeed become the greatest hurdle for quality healthcare in the country. Recently Union Minister M Venkaiah Naidu was seen highlighting that The country needs 10.5 lakh doctors but has only 6.50 lakh physicians. Moreover,  the number of doctors available per 10,000 people is more than 20 in developed countries, whereas in India it is just six
Read more at Medical Dialogues:
Open 187 more medical colleges by 2022: Niti Aayog Recommendation