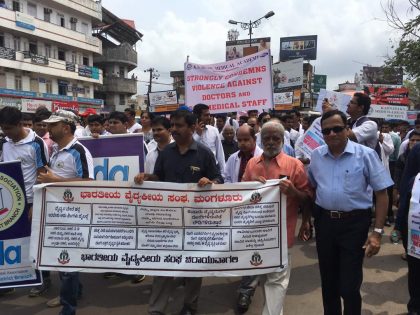 Mangaluru: Following the assault and attempted abduction of Dr Abhijit Shetty, an Assistant Professor at the Yenepoya Medical College, thousands of medical practitioners from the city of Mangaluru were seen yesterday taking to the streets opposing the acts of violence against medical personnel and demanding strict action from the government.
The rally, which was organised by IMA Mangaluru branch, and saw participation from all sections from the medical fraternity, including government doctors, private practitioners, medical students. Even members of the nursing and paramedical fraternity joined expressing their ire over the  growing assault and demanding justice. The partial bandh saw closure of medical services in the city, but emergency services and ICUs functioned normally.

Informing about the rally, a doctor told Medical Dialogues team," Almost 10,000 doctors participated in the protest march , it was a biggest rally till now in India . All doctors gathered at Nehru Maidan , then memorandum was given to DC . DC has called a meeting on the 7th June to discuss with all heads of all medical organisations  to see what steps to be taken to ensure safety of doctors . He has given a very positive response to all doctors protest."
Medical Dialogues team had earlier reported that mob of 40 people not only assaulted an assistant professor, two PG students and a nurse, but also tried to abduct the senior doctor, by dragging him away from the college. He was saved thanks to the quick action of his colleagues who chased the abductors for 8 kms outside the hospital, finally catching them with the police.
Read more at Medical Dialogues: Karnataka: Doctor Assaulted, abducted after patient death 
0 comment(s) on 10,000 Mangaluru Doctors take to streets on Issue of Violence