1256 deaths at BRD in 2017, 296 kids die in August alone: Official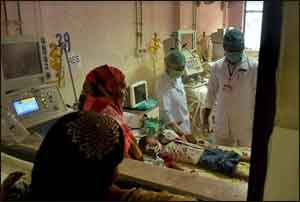 Gorakhpur: As many as 296 children died this month at the Baba Raghav Das (BRD) Medical College Hospital here, which has recorded 1,256 deaths since January, its principal said.
Of the August figure, 213 died in the neo-natal ICU and 83 in the encephalitis ward, principal P K Singh said.
There have been 1,256 deaths since January this year at the state-run hospital, especially in the encephalitis, infant and children wards, he said.
Additional Director, (Health), Gorakhpur, Dr Pushkar Anand said that "in the past 24 hours, 17 children with encephalitis were admitted in the medical college and two died during treatment."
Earlier, giving a break up of the causalities at the hospital, Singh said that 37 children had died on August 27 and 28, of whom 26 died in the neo-natal ICU (NICU) and 11 in encephalitis wards.
Giving a month-wise break up, he said the toll in January was 152, in February 122, March 159, April 123, May 139, June 137 and 128 in July.
The principal said children with different complications and ailments arising out of premature delivery, being underweight, jaundice, pneumonia, infectious diseases and encephalitis were admitted to the hospital, mostly in very serious condition.
A lot many lives could be saved if the patients are brought here earlier, Singh said.
The UP Special Task Force yesterday arrested a former principal of the government-run medical college and his wife allegedly in connection with the deaths of scores of children.