145 old ambulances will be replaced : Telangana Health Minister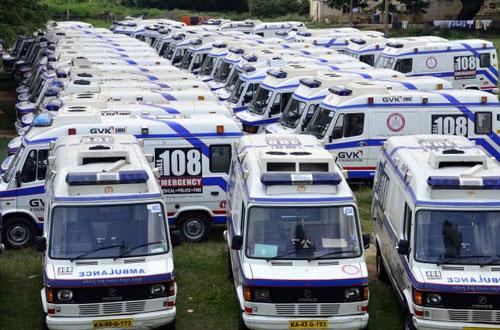 Hyderabad: Telangana Minister for Health C Laxma Reddy on Tuesday said that 145 old ambulances will be replaced with new one in the existing fleet of 316 ambulances.
speaking after unveiling a new fleet of ' 108' ambulance vehicles at Nizam college ground here, Reddy said last year, 145 new ambulances were added to the fleet , replacing old vehicles.
The new fleet of ambulances would improve emergency healthcare in the State, he Minister said the government is giving utmost importance to mobile health services as we launched the '102' ambulance services earlier exclusively to cater to pregnant women and newborns.
Besides introducing 108 bike ambulances which have been serving well in the streets of the city, he said adding that several two-wheelers were handed over to Auxillary Nurse Midwives (ANMs) for providing treatment in rural parts of the State.
Deputy Chief Minister Mohammed Mahmood Ali , Home Minister Nayini Narasimha Reddy, Secunderabad MP and former Union Minister Bandaru Dattatreya and others were present.