15000 Delhi resident doctors threaten OPD Shutdown from Nov 1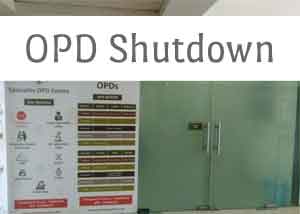 New Delhi : Aggrieved with the new order of the Delhi government calling for longer OPD hours, around 15000 resident doctors associated with 32 government hospitals have now threatened to boycott OPD from November 1, 2017.
The response comes in to a recent directive of Department of Health & Family Welfare, GNCT of Delhi, OPD working hours of doctors have been revised from 9:00 a.m. to 1:00 p.m. (4 hours) schedule to 8:00 a.m. to 2:00 p.m. (6 hours) in Delhi Government hospitals.
The order of additional working hours has not gone well with the resident doctors, who pointed out are working more than prescribe 48 hours in a week. Moreover, doctors pointed out that while the government increased the time for doctors, nothing was done for the ancillary services including laboratory and registration, as a result, long queues still persist outside hospital OPDs.
In a letter written to the health minister, representatives of Federation of Resident Doctors Association ( FORDA) pointed out to the following lacunae with move


Long queues of patients were observed at the Government Hospital Pharmacies and Registration Counters. Though the Government hospitals have been ordered to extend the OPD working hours, No measure has been proposed for reducing the long queues or waiting time of patients at the pharmacies and registration counters.


There should be a written order stating the duty hours of doctors, in compliance with the 48 hours a week working schedule and that should be strictly adhered to. Previously hospital working hours were from 9:00 a.m. to 4:00 p.m. Now that the OPDs will start at 8:00 a.m., hospital working hours should be from 8:00 a.m. to 3:00 p.m.


There should be uniformity of working hours of all Government hospital doctors in all settings. i.e., in OPDs, Wards and Operation theatres


Sample collection timing in the laboratories and the duty schedule of all laboratory technicians including Radiology technicians should be uniform and in accordance with the new OPD hours, either from 8:00 a.m. to 2:00 p.m. or 8:30 a.m. to 2:30 p.m.


There should be adequate manpower in all the OPDs which is highly essential for the smooth conduct of OPD activities in view of the heavy patient load. OPD assistants should be placed in the OPDs. There should be new recruitment of staffs wherever the situation demands.


The 8:00 a.m. to 2:00 p.m. schedule demands 6 hours of work at a stretch which might affect the quality of patient care. The timing of short break in between OPD hours as well as the lunch timing of doctors should be specifically mentioned.


Many doctors and paramedical staffs are posted in the Mohalla clinics and Polyclinics. Though it was a good initiative in the direction of reducing the patient load, there has hardly been any reduction in the footfall of patients in hospitals. Increasing the number of such clinics and recruitment of doctors might solve the issue.


Doctors also pointed out that since, their duty hours had gone up, commensurate increase should be made in the pay of doctors who working at these OPDs. However, with no response coming from the government despite repeated requests from the organisation, the doctors have threatened to boycott OPD services from November 1.
" Despite repeated requests, the government has not responded to our peaceful requests. . The residents of all Delhi Government Hospitals will be wearing black ribbons from 25/10/2017, onwards till 1/11/2017 as a mark of protest as there has been apathy of the Govt. of Delhi in fulfilling their demands. If the government won't change its decision, we will shut down the OPD services in all the hospitals on November 1." Dr Vivek Chouksey, President, FORDA told Medical Dialogues