2.7 lakh IMA members to Oppose National Medical Commission Bill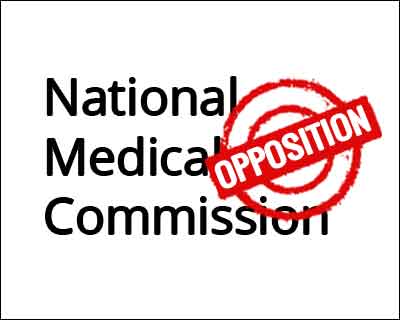 New Delhi: Around 2.7 lakh doctors associated with various branches of Indian Medical Association across the country, will be gathering together on the 16th November, 2016 to oppose the salient provisions of the National Medical Commission bill, which is expected to be introduced in the parliament in the month of December 2016.
IMA has strongly opposed the proposed National Medical Commission Bill 2016, citing concern that the NMC will have non-elected members nominated by the government.
"All the 30 State Branches and 1765 Local Branches of IMA are organizing a 2-hour Dharna as part of Stop NMC Satyagraha, in every district in India from
11 am
1 pm
on
16th November,
" announced an IMA press release.
Thousands of doctors across the country will participate in the dharna - 'Stop National Medical Commission IMA Satyagraha', press meet and will hand over a memorandum addressed to the Prime Minister to the respective district magistrates.
"The dharna is organized as a reminder to the Government to intervene and sort out the major problems faced by the medical profession" said Dr K K Aggarwal, National President Elect and Honorary Secretary General, IMA.
Many practitioners in the medical fraternity were miffed when many provisions of the proposed National Medical Council bill, and decided to get together to oppose when no response came on the public suggestions that were invited by the Niti Ayog.
"Not only the inter-ministerial committee slept over the issues, the Government of India has gone ahead with scrapping of MCI and is replacing it with a totally nominated body called National Medical Commission. The bill is anti people in character" said Dr A Marthanda Pillai, Immediate Past National President, IMA.
Dr Rakesh Gupta, President of DMA, and Dr Ashwani Goyal, Secretary of DMA, in a joint statement pointed out that Ayurvedics, Homoeopaths and others will get registration in modern medicine through Schedule IV of NMC.
"This will affect the patient care and patient safety. We will give six weeks to the government to meet our demands or will be forced to take further course of action," the statement added
Opposing the features of the proposed National Medical Commision, IMA has put forward the following demands


To stop NMC and to suitably amend Indian Medical Council Act without compromising the autonomy of the profession.


 Capping of compensation under Consumer Protection Act.


Amendments to abolish license Raj and exemption to single doctor clinics in Clinical Establishment Act.


Punitive punishments only for sex selective abortion and not for clerical errors under PC PNDT Act.


A Central Act to protect doctors and hospitals from violence.


To prevent unscientific mixing of modern medicine and indigenous systems.  Scheduled drugs to be prescribed only by modern medicine graduates.