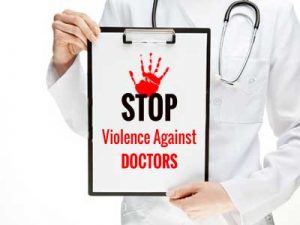 Hyderabad: Around 250 doctors of state-run Osmania General Hospital (OGH) boycotted work and held a protest against the attack on their two female junior doctors and a duty doctor, allegedly by a mob of 30 people who were accompanying a woman patient who died at the hospital.
The alleged attack on the doctors took place at 8 pm on Sunday. It is reported, after the death of a lady, the attending doctor was slapped five times and another junior doctor's arm was twisted by the attendants. Also, another duty doctor was repeatedly beaten with a chair.
A junior doctor told Express "Chances of her survival were only two to five per cent and the prognosis was explained to the attendants. We were giving her Cardiopulmonary Resuscitation when she died. While entry is restricted to only one attendant, four of them barged in pushing aside security guards. They twisted the arm of a junior doctor, slapped another junior doctor five times and struck the duty doctor with a chair."
The protesting house surgeons and junior doctors said they were boycotting elective duty in protest against the incident and also against the "unsafe" working conditions at the hospital even as the hospital administration constituted a commission to probe the incident.
The protesters held a demonstration and raised slogans like 'We want justice'.
A junior doctor informed that around 30 people attending a 70-year-old woman, undergoing treatment in the ICU of the hospital, assaulted two women house surgeons and a post-graduate doctor following the death of the woman.
"Protesting against last night's attack, the house surgeons and junior doctors of OGH abstained from elective duties. However, the medial services were not hit," OGH Superintendent GVS Murthy said.
0 comment(s) on 250 Doctors Strike over attack on colleagues at Osmania Hospital