3 medical College professors to face Action for Private pracitce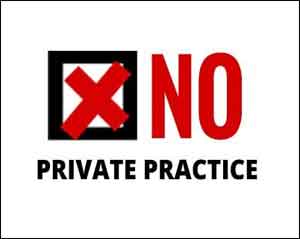 Mumbai: In a recent case of alleged private practice by government doctors, the Maharashtra government has written a letter to Maharashtra medical council (MMC) to take a strong action against the three professors of Yavatmal medical college for doing the private practice without permission.
The three medical college professors have been identified as Associate Professor (Paediatrics), Associate Professor (Medicine) and Associate Professor (Surgery) .
Citing the case of Dr Chavan, Yavatmal GMC dean told the daily that the said faculty was found to have participated in triathlon in Hyderabad and even completed it despite being on sick leave from the institute. "If you claim o be on sick leave and then participate in triathlon and carry out private practice by violating service conditions, an action is abounding to be taken," he told The Indian Express.
It is alleged that these doctors have been bunking their official duties for their private practice. Their absense from the medical college became conspicuous when during a routine inspection at the college DMER officials found that all the three professors had been absent from duty for a prolonged period.
After the inspection done at college, the bureaucrats told the college collector Rajendra Deshmukh to submit the report of the absentee teachers with the names of the colleges where they were doing private practice.
Questioning whether these doctor were doing private practice and had the permission for the same, the Medical Education Department directed Yavatmal collector Rajendra Deshmkukh to submit a status report. In his report the collector confirmed that they were doing private practice listing out the various hospitals where the doctors were associated
"Rathod was practicing from 10 am to 8 pm, Janbandhu from 10 am to 3 pm and from 6 pm to 9 pm and Chavan from 10 am to 8 pm," his letter stated.
The DMER later issued a show cause notice against all the three professors asking them to submit replies within seven days. With no response, DMER has now finally written to the Maharashtra Medical Council to initiate proceedings to take action against all the three teachers under the section of 22 (b) of the MMC Act which empowers the authority to remove the name of a registered medical practitioner for misconduct.
Besides this the DMER has also proposed that proceedings be initiated against them under the Maharashtra Civil Service—discipline and appeal—rules
With the incident, the officials further directed the DMER, as well as deans of all the government-run medical colleges across the state, have been asked to conduct a periodic review and ensure teachers are available in colleges and they do not carry out private practice. "We will not hesitate to take stern action against errant deans too if they fail to initiate disciplinary proceedings against the teachers and report it to DMER and MED," the official told TOI