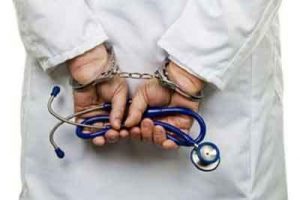 Kakinada: A Rs 2000 bribe in the year 2007 has now resulted in 3-year rigorous imprisonment and a Rs 6000 fine after he was held guilty by the Anti-Corruption Branch Court.
UNI reports that special Anti-Corruption Branch (ACB) court Judge A Gayathri Devi while delivering the judgement at Rajahmundry on Tuesday convicted a Medical officer of Peddapuram area hospital and sentenced him to 3 years rigorous imprisonment and was fined Rs 6,000.
The ACB sleuths have caught Dr Mohan red-handed on 26 February 2007 while accepting a bribe of Rs 2,000 from the complainant Bayyapureddi Krishnamurthy for issuing GPF non-drawal certificate to his wife, who retired as a nurse in Virava PHC while he was working as the Medical officer there.
The case was filed under the supervision of Shakeela Banu additional SP and Sudhakar DSP of ACB Rajahmundry range.
P Seshaiahl, the special public prosecutor has conducted the prosecution.
17 comment(s) on 3 year jail for PHC doctor for taking Rs 2000 Bribe