3000 posts of Nurses, Paramedical staff to be filled in Health Dept: HP Health Min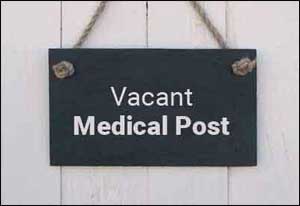 Kangra: Himachal Pradesh Health minister Vipin Parmar said that 3000 posts of nurses and Paramedical staff will be filled up in the health department in order to provide better healthcare facilities in the state.
Health Minister was speaking during a free medical camp organized at Jandrah in Nagrota Bagwan in connection with the martyrdom day of Martyr Jagdish Rana today. The Ayurveda Center at Jandrah was named after martyr Jagdish Rana as a mark of tribute to the great soldier. Rana attained martyrdom in 1999 at Bihar when attacked by terrorists. The family of martyr Rana donated the land for the centre.
He said that 1000 posts nurses and 2000 posts of paramedical staff will be filled in Health and Ayurveda departments.
He said the present government filled 262 posts of doctors, 200 posts of Ayurvedic doctors, 225 posts pharmacists and 56 dental surgeons. Minister announced that within two months all vacant posts will be filled up in Tanda Medical College.
Later on, Parmar laid the foundation stone of Ayurvedic Health centre at Bhalol to be constructed at the cost of Rs. 16.33 lakhs. Parmar said that serious efforts were being made to strengthen the age-old system of Ayurveda in the state.
Health minister announced that Nagrota Bagwan hospital will be upgraded to 100 bedded hospital. He announced Primary Health Center for Lagdoo and Ayurvedic Health Centre for Thil villages.
He said that PHC at Baroh will be upgraded to CHC and 6 posts of doctors other posts of staff of this centre were sanctioned by the government. He said that for Baroh hospital a new building will be constructed as soon as land will be available for the project.
Minister announced that Rs. 50 crores will be spent on the Shehorbala – Sujanpur road and announced that bus service between Baba Baroh and Khudian.
He was accompanied by MLA Nagrota Bagwan Arun Mehra during the tour.