4 Medical Faculty of KGMU suspended by Medical Council Of India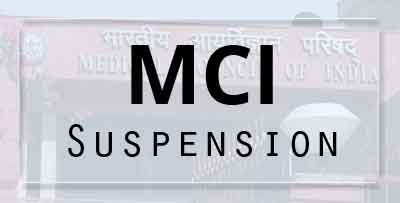 Lucknow: Four medical faculty associated with the premier King George's Medical University (KGMU), Lucknow are now facing a 6 months suspension from the apex medical regulator, on account of wrong disclosures made by them in the forms of MCI inspection, and hiding the fact that they had appeared for private medical colleges in other MCI inspections.
TOI identifies these medical faculty as


Dr Shailendra Singh, orthopedic department


Dr Sanjeev Kumar, general surgery department


Dr Shiuli, Forensic medicine department and


Dr Parul Verma, dermatology-venerology department


It is reported that MCI at an earlier occasion had ordered the suspension of these doctors. However, the medical practitioners had obtained a stay from the state high court on the said decision. Now, with the high court ruling in the favour of the medical council, MCI has directed the Uttar Pradesh Medical Council, to suspend these doctors for a period of 6 months
"The four doctors had provided MCI wrong information on their declaration form during an MCI inspection at KGMU. They had previously appeared in other MCI inspections at private colleges which was hidden by them in the said form. Found out by MCI, the doctors were suspended but they instead took a stay from the high court against MCI's order. Now MCI has won the same case after which KGMU was through Uttar Pradesh MCI asked to carry out the suspension," KGMU spokesperson, Prof NS Verma told TOI.
As per MCI regualtions, a medical faculty has to be full time associated with a medical college for a full academic year. However, many medical practitioners, act as ghost faculties, providing documents and appearing at the time of MCI inspection at different medical colleges.The
Medical Council of India
in its endeavour to control ghost faculty appointments in government and private medical colleges has now proposed to link Aadhaar Numbers of the faculties to their biometric details.
Read Also:
Adhaar numbers to be used to check ghost faculty: MCI