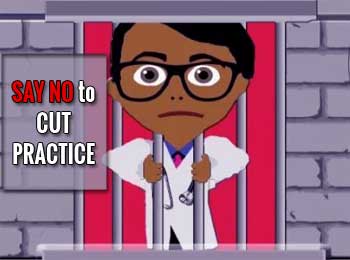 Stakeholders can send their opinion to the Directorate of Medical Education and Research (DMER), which will be considered and incorporated after discussions
Mumbai: The draft bill for The Prevention of Cut Practices in Healthcare Services Act, 2017; Maharashtra has come out and it spells out harsh penalties for all medical practitioners involved in the practice of giving or receiving of cuts/ commissions.
The said bill spells out harsh penalties for medical practitioners, both who take cuts for referring patients/soliciting medicines, and those who give cuts/commissions stating that any healthcare Service Provider found guilty of involvement in cut practice shall he liable to be punished with simple imprisonment up to 5 years, or a fine of 50,000, or both.  This will additionally draw a suspension of 3 months from the respective council.
The present draft bill focuses on Maharashtra State but is expected soon to be replicated in other states as well.  The bill is now in the process of discussion and the state government is expected to soon open it for public comments. Following are the major features of the preliminary draft.
What is Cut Practice?
The bill defines Cut Practice   as the giving or receiving of cuts in professional fees, commissions and any monetary payment, other than legitimate professional fees and salary for the professional services rendered by any Healthcare Service Provider;or by pharmaceutical companies,or any favour, payment, gift, gratuity or inducement given, solicited, offered or received in whatever manner, either directly or indirectly or through any third person, in the State of Maharashtra or anywhere else, by a healthcare Service Provider located anywhere to or from any other Healthcare Service Provider located anywhere, which is likely to incentivize or encourage referring, recommending or procuring of patients in any manner with the intention of providing professional healthcare services to them.
Who is a healthcare Provider?
Steps have been taken to make the bill is quite exhaustive enough to cover a wide range of medical practitioners in the state. Medical Practitioners, including allopathic doctors, dentists, veterinary practitioners as well as physiotherapists fall under the bill. Healthcare providers under the act also  include a hospital, maternity home, nursing home, dispensary, clinic, sanatorium or an institution by whatever name called that offers services, facilities requiring diagnosis, treatment of care or illness, injury, deformity, abnormality or pregnancy in any recognized system of medicine established and administered or maintained by any person or body of persons, whether incorporated or not. Moreover, diagnostic centres including institutions in connection with the diagnosis or treatment of diseases where pathological, bacteriological, genetic, radiological, chemical, biological investigations or other diagnostic or investigative services with the aid of laboratory or other medical equipment, are usually carried on, established and administered or maintained by any person or body of persons, whether incorporated or not are also part of the bill. The preliminary draft bill, however, is as such silent on AYUSH practitioners.
Who Can complain about cut practice?
The Bill lays down the process of filing a complaint under cut practice as
Any person, having reliable information and, who believes that a system of Cut Practice is being followed by any Healthcare Service Provider, shall address his grievance before the local office of the Authority, within whose jurisdiction the incidence of Cut Practice has. Even the state government can take suo moto cognizance against any healthcare service provider. The  draft bill provides for protection of identity of the complainant as well as healthcare provider agaisnt whom the complaint has been made
On receiving such a grievance, the Authority shall enquire into the veracity and genuineness of the grievance whilst following the principles of natural justice and due process of law, and as per the guidelines laid down by the Central Vigilance Commission.
For the purposes of this Section, the Authority shall have all the powers of search, seizure and arrest as laid down in the Code of Criminal Procedure, 1973.
On completion of investigation, the Authority shall file a complaint before the Appropriate Court, which will try the case as provided under the Code of Criminal Procedure,
On receipt of the complaint, the authority shall complete the enquiry within a period of three months (3) as far as possible. This can be extended by another three months with the written prior approval of Inspector General / Additional Director General of the authority.
Any grievance filed, if found to be frivolous or false by the Authority, shall be immediately brought to the notice of Appropriate Court, who shall, in that event, deal with person raising such grievance appropriately and may impose a fine, in the form of damages, as it may deem fit and proper in the facts and circumstances of that
Punishment
The draft bill clearly states that any healthcare Service Provider found guilty and in violation of Section 3 of this Act shall be liable to be punished with simple imprisonment up to 5 years, or a fine of 50,000, or both. The draft copy, whose access is with Medical Dialgoeus currently does not specify the punishment for repeat violations and is under discussion, as informed to Medical Dialogues team by Dr Avinash Supe, Dean KEM Hosptial and a key member of the team that made the draft bill.
The draft bill also specifies that action will be taken against the practitioners by the respective Council against the practitioner concerned.
Action Taken by The council 
On registration of an FIR against, healthcare Service Provider found guilty under Section 3 of
this Act before the Appropriate Court, the respective Medical Council shall take cognizance
of such offence and initiate an inquiry into the case within six months of the receipt of the FIR. The Medical Council shall take appropriate legal action against the Healthcare Service Provider as prescribed under the State legislation governing the Healthcare Service Provider; and may also suspend the Healthcare Service Provider for a minimum period of 3 months, if found necessary
The preliminary draft bill will soon be open for public for discussion. Stakeholders can send their opinion to the Directorate of Medical Education and Research (DMER), which will be considered and incorporated after discussions
19 comment(s) on 5 year Jail-time, Rs 50,000 fine for doctors involved in cut practice: Check out Details