68 New Medical Colleges denied establishment permission this year, 9000 MBBS seats lost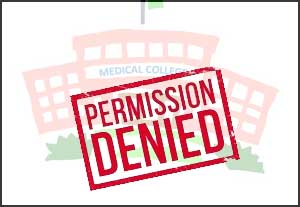 New Delhi: Its that time of the year, when the Ministry of Health and Family Welfare, following the recommendations of the Medical Council of India accords or denies permission to medical colleges across the country for the purpose of teaching MBBS and PG courses.
This year, 68 upcoming medical colleges have not made it to the list of approved medical colleges, as the Health Ministry has announced its DISAPPROVAL to issue the letter of the establishment to these medical colleges. With this disapproval, 9000 new MBBS seats will not be available for the admission quota for the year 2018-19.
Besides disapproving these new medical colleges, Health Ministry has also denied permission of renewal to 82 existing medical colleges.
Read Also: 11800 Seats lost: 82 medical colleges not given MBBS Renewal by Health Ministry
Following are the details of new medical colleges denied permission
| | | | | |
| --- | --- | --- | --- | --- |
| SL.No | State | Govt/Pvt. | College Name | Seats |
| 1 | A.P. | Pvt. | Sri Padmavathi Medical College, Hospital & Research Institute, Renigunta | 150 |
| 2 | Assam | Govt | Govt. Medical College, Dhiphu | 100 |
| 3 | Bihar | Pvt. | Madhubani Medical College, Madhubani | 150 |
| 4 | Bihar | Pvt. | J M Medical College & Hospital | 150 |
| 5 | Blhar | Pvt. | Sri Narayan Medical Institute & Hospital | 100 |
| 6 | Bihar | Govt | Govt. Medical College, Madhepura | 100 |
| 7 | Chhattisgarh | Pvt. | BPR Medical College & Trust | 150 |
| 8 | Gujarat | Pvt. | Sumul Medical College, Tapi | 150 |
| 9 | Gujarat | Pvt. | Mahaveer College of Medical Sciences | 150 |
| 10 | Gujarat | Pvt. | Shantabaa Hospital and Medical College | 150 |
| 11 | Gujarat | Pvt. | Krishna Medical College, Bharuch | 150 |
| 12 | Gujarat | Pvt. | Zydus Medical College, Dahod | 150 |
| 13 | Gujarat | Pvt. | Nootan Medical College & Research Centre, Mehsana | 150 |
| 14 | Haryana | Pvt. | Haryana Institute of Medical Sciences & Research | 150 |
| 15 | Haryana | Pvt. | Al-Falah School of Medical Sciences & Research Centre | 150 |
| 16 | Haryana | Pvt. | Gangaputra Medical College, Jind | 150 |
| 17 | Haryana | Pvt. | Baba Mungipa Medical College & Research Centra, Agarttall | 150 |
| 18 | Jharkhand | Pvt. | Manipal-Tata Medical College, Jamshedpur | 150 |
| 19 | Jharkhand | Govt | Palamu Medical College, Palamu | 100 |
| 20 | Jharkhand | Govt | Hazaribagh Medical College, Hazaribagh | 100 |
| 21 | Jharkhand | Govt | Dumka Medical College, Dumka | 100 |
| 22 | Jharkhand | Pvt. | Paritran Medical College & Hospital | 150 |
| 23 | Karnataka | Govt | Bowring and Lady Curzon Medical College and Research Institute, Bengaluru | 150 |
| 24 | Karnataka | Govt | Chikkamagaluru Institute of Medical Sciences | 150 |
| 25 | Karnataka | Govt | Bagalkot Institute of Medical Sciences | 150 |
| 26 | Karnataka | Govt | Chitradurga Inst. of Medical Sciences Govt. district hospital | 150 |
| 27 | Karnataka | Govt | Haveri Instt. of medical sciences govt. district hospital | 150 |
| 28 | Karnataka | Govt | Yadgiri Institute of Medical Sciences | 150 |
| 29 | Karnataka | Govt | Chikkaballapur Institute of Medical Sciences | 150 |
| 30 | Karnataka | Pvt. | Sri Siddhartha Institute of Medical Sciences & Research Centre | 150 |
| 31 | Kerala | Govt | Govt. Medical College, Idduki | 100 |
| 32 | Kerala | Pvt. | Palakkad Institute of Medical Sciences, | 150 |
| 33 | Kerala | Pvt. | Shree Ayyappa Medical College & Research Foundation | 150 |
| 34 | Madhya Pradesh | Govt | Govt. Medical College Chhindwara | 100 |
| 35 | Madhya Pradesh | Govt | Govt. Medical College Shivpuri | 100 |
| 36 | Madhya Pradesh | Govt | Govt. Medical College Ratlam | 150 |
| 37 | Madhya Pradesh | Govt | Govt. Medical College Shandol | 100 |
| 38 | Madhya Pradesh | Govt | Govt. Medical College Vidisha | 150 |
| 39 | Madhya Pradesh | Govt | Govt. Medical College Khandwa | 100 |
| 40 | Madhya Pradesh | Pvt. | Mahaveer Institute of Medical Sciences & Research | 150 |
| 41 | Maharashtra | Pvt. | Dr. N Y Tasgaonkar Institute of Medical Sciences & Research Centre, Raigad | 150 |
| 42 | Maharashtra | Govt | Govt. Medical College, Nandurwar | 100 |
| 43 | Maharashtra | Govt | Govt. Medical College Baramati | 100 |
| 44 | Maharashtra | Pvt. | Sindhudurg Shikshan Prashak Mandal Medical College & Lifetime Hospital, Padave | 150 |
| 45 | Rajasthan | Pvt. | Agrawal Medical College, Merta | 100 |
| 46 | Rajasthan | Govt | Govt. Medical College Barmer | 100 |
| 47 | Rajasthan | Govt | Govt. Medical College Sikar | 100 |
| 48 | Rajasthan | Pvt. | Narmada Devi Medical College and Hospital, Jodhpur | 150 |
| 49 | Tamilnadu | Pvt. | Dr. V S Isaac Aiyya Medical College & Research Institute , Arrakonam | 150 |
| 50 | Tamilnadu | Pvt. | St. Peter's Medical College ,Hospital & Research Institute, Hosur | 150 |
| 51 | Tamilnadu | Pvt. | DD Medical College and Hospital | 150 |
| 52 | Tamilnadu | Pvt. | CSI Medical College, Neyyoor | 150 |
| 53 | Telangana | Pvt. | TRR Institute of Medical Sciences, Sangareddy | 150 |
| 54 | Telangana | Pvt. | Dr. Patnam Mahender Reddy Institute of Medical Sciences | 150 |
| 55 | Telangana | Pvt. | Surabhi Institute of Medical Sciences, Medak | 150 |
| 56 | Uttar Pradesh | Pvt. | Jauhar Institute of Medical Sciences, Rampur | 150 |
| 57 | Uttar Pradesh | Govt | Govt. Medical College Badaun | 100 |
| 58 | Uttar Pradesh | Govt | Govt. Medical College Faizabad | 100 |
| 59 | Uttar Pradesh | Govt | Govt. Medical College Firozabad | 100 |
| 60 | Uttar Pradesh | Govt | Govt. Medical College Basti | 100 |
| 61 | Uttar Pradesh | Govt | Govt. Medical College Bahraich | 100 |
| 62 | Uttar Pradesh | Govt | Government Inst. of Medical Sciences | 100 |
| 63 | Uttar Pradesh | Govt | Govt. Medical College Shahjahanpur | 100 |
| 64 | Uttar Pradesh | Pvt. | Naraina Medical College & Research Centre | 150 |
| 65 | Uttar Pradesh | Pvt. | Dr. M C Saxena College of Medical Sciences | 150 |
| 66 | Uttarakhand | Govt | Soban Singh Jeena Govt. Institute of Medical Sciences & Research, Almora | 100 |
| 67 | West Bengal | Pvt. | Sarif Medical College & Hospital, Siliguri | 150 |
| 68 | West Bengal | Pvt. | Sri Ramakrishna Institute of Medical Sciences & Sanaka Hospital | 150 |