7 Doctors booked for performing sex determination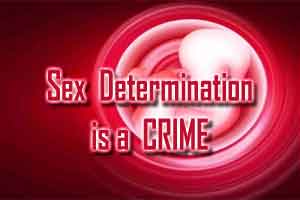 Punjab and Haryana: A series of sting operations across the states of Punjab and Haryana, have revealed many doctors being caught red handed taking money to perform ultrasound for determination of sex of the foetus. As many as seven doctors had been booked yesterday in a series of raids/sting operations performed in the two states

One of the reports comes from the Yamunanagar in Haryana where two doctors have been caught by the health officials during a sting operation while performing sex determination on a decoy patient. The two doctors, a couple duo, had demanded Rs 40,000 for determining the sex of the foetus from a decoy patient, when they were caught red handed by the officials. The doctors duo, husband and wife, have been identified to be repeat offenders.

In another case, five doctors were booked on Saturday, for conducting illegal sex determination test in Shahid Bhagat Singh Nagar district in Punjab, officials said.

Acting on a tip off, Department of Health and Family Welfare conducted a sting operation, which led to the registration of cases under the Pre-Conception and Pre-Natal Diagnostic Techniques (PC-PNDT) Act and Rules against the five doctors of Suri Scan Centre in Balachur, an official spokesman said.

The case was registered after the doctors took a sum of Rs 20,000 from a decoy patient for illegal sex-determination, the spokesman said.

The scan centre has been sealed and its owners asked to get all records of the scan centre inspected by Sub-divisional appropriate authority (PC PNDT Act) within 48 hours.

A case has been registered against Dr Ujagar Singh Suri (owner), Dr Bhushan, Dr Sunita, Dr Sandeep and Dr Gurinder Bagga in Punjab, the spokesman said.