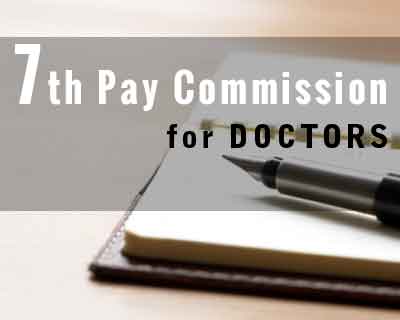 Rohtak: Fighting for their right to the correct emoluments as per the new government norms, the resident doctors and house surgeons associated with the Post Graduate Institute of Medical Sciences (PGIMS), Rohtak, are currently observing an indefinite strike seeking implementation of the 7th Pay Commission.
The strike called over the issue of pay anomalies was initiated on 3rd October. The protesting doctors staged a demonstration on the premises and raised slogans to press for the fulfilment of their demands.
When contacted, PGIMS Resident Doctors Association (RDA) President Dr Jangveer Grewal and Vice-President Dr Gaurav Nandal informed that they had been denied the benefit of the 7th Pay Commission for the past two years.
"When our salaries were finally fixed in accordance with the 7th Pay Commission, we started getting salaries lesser than what we used to get under the 6th Pay Commission. We brought the matter to the knowledge of the authorities concerned but to no avail. Hence, we were forced to go on strike," they stated while expressing their dilemma to the Tribune.
Interns have been entrusted to look after the patients admitted in the wards. Senior resident doctors looked after the patients in the wards otherwise, adds TOI.
Meanwhile, many of the well-known medical professionals' associations have forward supporting the protesting doctors.
Dr Nandal confirmed that the Federation of Resident Doctors Associations, United Resident Doctors Association, India, Jan Swasthaya Abhiyan, Haryana, and several other medical associations had supported their stir.
However, the strike is not apparently going well with the University of Health Sciences (UHS), under which PGIMS functions. The doctors have been warned against stringent penalizing actions if they don't put a stop to their strike.
The Tribune reports that while terming the resident doctors' strike as "illegal, pre-planned and motivated", Prof OP Kalra, Vice-Chancellor of UHS, advised the striking doctors to join duty, failing which strict disciplinary action would be taken against them.
"We had heard the grievances of the resident doctors and conveyed their concerns to the state authorities. Still, they went on a strike, and that too without any prior intimation. This will be taken seriously," he said, adding that the patient-care would not be allowed to suffer at any cos
As per resident doctors, their demands have still fallen on deaf ears.  The RDA also met with the  Additional Chief Secretary (Medical Education)  to inform him about the matter, but even that meeting did not go well. " the ACS misbehaved with our representatives, following which the RDA decided to continue the strike," RDA president Told Tribune
Healthcare services at the PGIMS OPDs, indoor wards, operation theatres, labour rooms, ICUs, casualty wing, ICUs and Trauma Centre got affected by the strike of the resident doctors.
0 comment(s) on 7th Pay Commission: PGIMS Doctors call it a Strike