800 million dollar required to eliminate measles by 2020 from India, south east Asia: WHO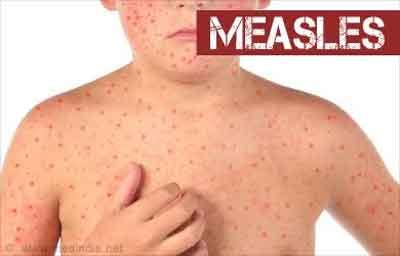 Male: India and four other countries in South East Asia need over USD 800 million to eradicate measles by 2020 - the deadline for eliminating the highly contagious viral disease that kills an estimated 134,200 children globally every year, according to the WHO.
A total of 400 million children in India, Bangladesh, Myanmar, Timor Leste and Indonesia must receive the Measles Rubella (MR) vaccine by 2018, while 140 million should be reached by the end of 2017, said Pem Namgyal, Director for Family Health, Gender and Life Course, at the World Health Organisation (WHO)'s Regional Office for South East Asia.
The figures are much higher against 6.8 million children reached in 2016 and 18 million in 2015, he said, speaking at The Seventieth Regional Committee session of WHO Southeast Asia Region here.
"Nearly USD 800 million is required for the elimination of measles from SEA countries such as India, Bangladesh, Myanmar, Timor Leste and Indonesia by 2020 - the targeted time decided by the experts," said Namgyal.
Observing that the WHO currently has only 30-40 per cent of the resources towards the elimination of measles from the concerned countries, Namgyal said immunisation programmes in the region were reaching more than 32.2 million children as compared to around 27 million in 2005.
India's Health Secretary C K Mishra, representing the country at the meet, noted that initiatives have been taken by the government to ensure the deadline for eliminating measles is met.
"We are resolute about eliminating measles and we aim to do it by 2020. Special initiatives have been taken and the work is in progress," Mishra told on the sidelines of the WHO regional summit.
Namgyal noted two-dose measles vaccine has been included in the vaccination programme.
"Since 2006 more than 345 million children have been reached with the first dose, and over 132 million with the second dose. Estimations are that more than 5.9 million deaths due to measles have been averted," said Namgyal.
An additional 325 million more children have been reached with measles vaccine, avoiding an estimated 600,000 deaths due to the infection, he added.
Namgyal said that with the scale up of immunisation activities in the member countries, a 66 per cent reduction in mortality due to measles was observed from 2000-2015.
"It is estimated that about 620,000 deaths due to measles were averted by vaccination in 2016 alone," the climate expert said.
Currently, over 4.7 million children in SEA region have not received measles vaccination as per the surveys conducted in 2016.
Eliminating measles from the SEA is part of the global body's resolution to make children free from the viral disease as every year the disease claims over 54,500 children annually in the region, according to WHO figures.