Prof Dr D Dash awarded Sun Pharma Research award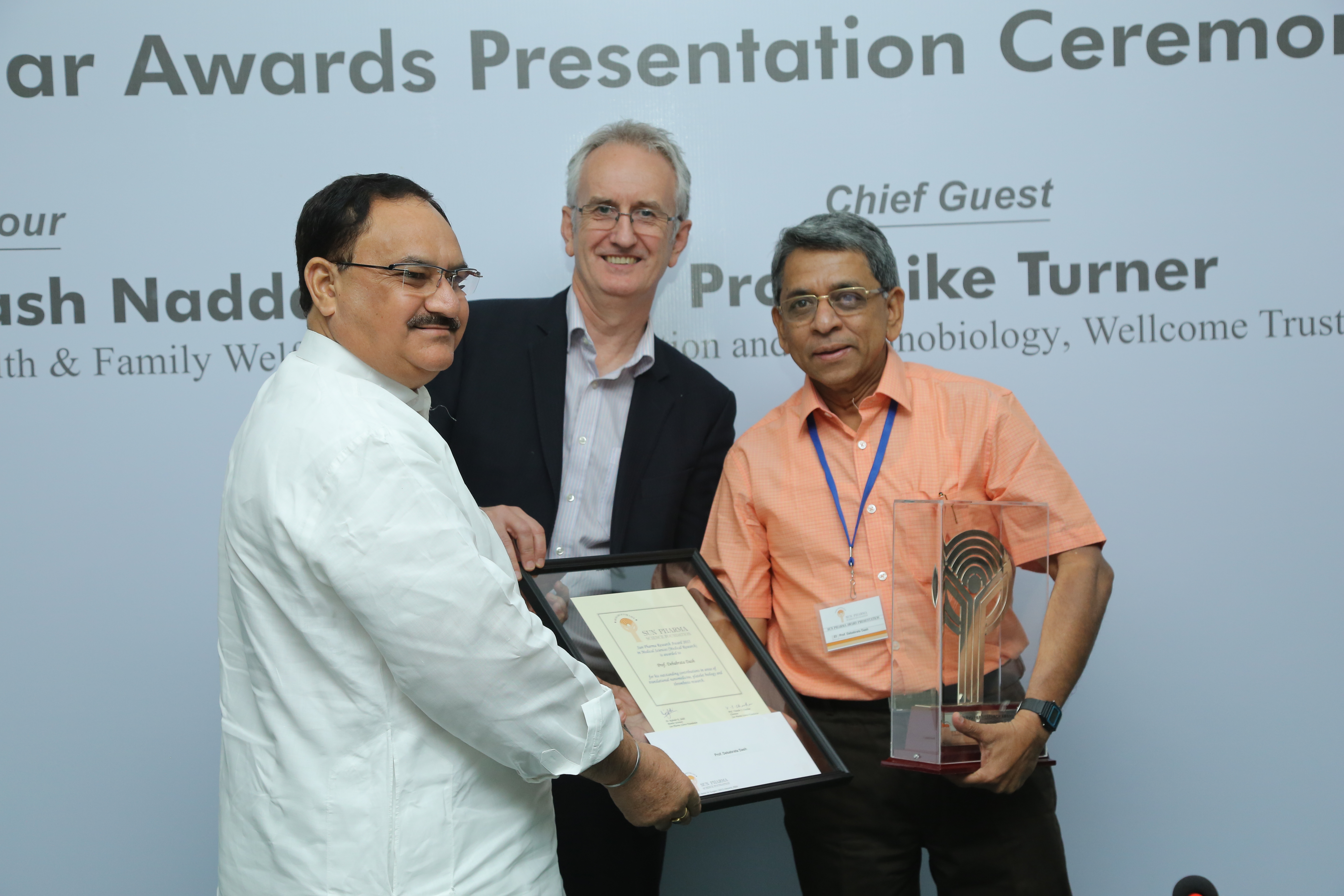 Dr. D. Dash, (MD, PhD, DSc), Professor in Biochemistry at the Institute of Medical Sciences, Banaras Hindu University was recently awarded with Sun Pharma Research Award in Medical Research by Mr. JP Nadda, the Union Minister of Health and Family Welfare, and Prof. Mike Turner, Director, Welcome Trust, UK, in a special function at India Habitat Centre, New Delhi. The doctor has been engaged in the research involving Platelet Activation, Thrombus Biology and Biomedical Applications of Nanomaterials for last 33 years.
Prof. Dash has recently achieved novel mode of thrombolysis by using gold nanorods irradiated with NIR laser, which is a far superior method than conventional streptokinase therapy. This work has already been patented and published last year in "Nano Research". In another patented study he has fabricated a nano-biosensor that can identify persons with high cardiac risk in a drop of blood (published in 2015 in Biosensors Bioelectronics). The body of work of Prof. Dash also involves effect of nanomaterials like nanosilver, nanogold and graphene on platelets and thrombus formation and mechanism of platelet aging.
Prof. Dash is a Fellow of National Academy of Medical Sciences (FAMS), Indian National Science Academy (FNA) and Indian Academy of Sciences (FASc). Ministry of Science and Technology, Govt. of India, has also awarded him "Tata Innovation Fellowship" in view of element of innovation and translation in his research. He has also been awarded prestigious Basanti Devi Amir Chand Award by ICMR and Prof. CNR Rao Award for excellence in scientific research.