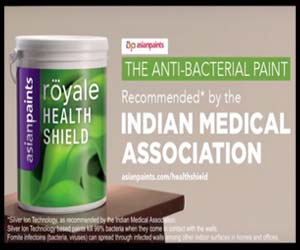 New Delhi: An TV advertisement featuring two famous celebrities using Antibacterial paint that is apparently "recommended*" by the Indian Medical Association, was recently pulled up by the Consumer Complaints Council (CCC) of the Advertising Standards Council of India (ASCI).
The  CCC pulled up a renowned celebrity couple that endorsed an "Antibacterial" paint brand claiming it to be endorsed by the Indian Medical Association (IMA), stated a release by ASCI.
The committee was responding to complaint against the said advertisement and after going through the entire matter held that the advertisement violates ASCI's Guidelines for Celebrities in Advertising and the ASCI Guidelines on Disclaimers.
The CCC noted that the claims made in the advertisement were misleading that exploit consumers' lack of knowledge and lead to widespread disappointment in the minds of consumers.
The advertiser's claims "Its anti-bacterial technology kills bacteria that enter the house", "Kills all bacteria" "Asian Paints – The Anti-Bacterial Paint. Recommended by the Indian Medical Association" featuring celebrities Ranbir Kapoor and Deepika Padukone were not adequately substantiated. The source and date of the studies used as the basis of the claims were not included in the disclaimer. The advertisement was misleading by ambiguity regarding the nature of germ kill and omission with respect to the required contact time.
The body took a sharp note of the claim that the IMA had endorsed the product
The TVC was misleading by implication that The Indian Medical Association (IMA) has endorsed the product, whereas, IMA had permitted the use of their logo for the "Asian Paints Silver Ion Technology" and not for the product as a whole. The advertiser did not provide any evidence showing that the celebrities had done due diligence prior to the endorsement.
The advertisement violates ASCI's Guidelines for Celebrities in Advertising and the ASCI Guidelines on Disclaimers, the body held
0 comment(s) on ACSI whip on IMA RECOMMENDED Paint Ad featuring Ranbir Kapoor and Deepika Padukone