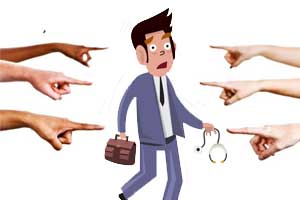 Gwalior: With the top chains for Fortis and Max grappling with allegations of medical negligence in the capital, a man from Gwalior has now come forward with similar allegations against the leading BLK hospital in New Delhi. The man has alleged that his daughter passed away at BL Kapur Super Speciality Hospital in New Delhi's Karol Bagh due to medical negligence.
Neeraj Garg, the father of the minor, informed that the girl, suffering from congenital dyserythropoietic anaemia (CDA) underwent a bone marrow transplant at the hospital and fell sick after a few days. He added that the doctors stood firm on their statement that there is nothing to worry. "My daughter underwent a transplant at the hospital. After a few days, she fell sick, faced breathing problems and severe headache. Doctors continued to say that all this is normal," he was quoted as saying.
When informed to the doctors about his daughter's degraded condition, the doctors said that it is all normal; however, after a few days, the doctor's stated that the girl had caught the severe infection and she cannot be saved.
Speaking with India.com, Garg said "A few days later, doctors said that they will have to shift her to ICU as she had some infection. And what was most shocking was when the doctors said now she will have to be shifted to ventilator because of breathing issues. They said this is normal process so don't worry." Notably, the girl died within 24 hours of shifting to ventilator.
Congenital dyserythropoietic anemia (CDA) is a rare blood disorder, similar to the thalassemias. CDA is one of many types of anemia, characterized by ineffective erythropoiesis, and resulting from a decrease in the number of red blood cells (RBCs) in the body and a less than normal quantity of hemoglobin in the blood.
BLK's Response
Following the allegations of medical negligence, the BLK hospital has released the following statement
This is regarding the unfortunate demise of the patient, Deeva Garg, at BLK Super Speciality Hospital. We stand by the family in their hour of grief and sorrow.

Ms. Deeva Garg was suffering from Congenital Dyserythropoietic Anaemia (Defective Bone Marrow not producing blood). She was dependent on regular blood transfusions since infancy for her survival. The family was aware that for this kind of disorder, the only curative procedure is Bone Marrow Transplant. However, the family chose repeated blood transfusion as the chosen line of treatment for her. Because of repeated and regular transfusions, the child developed Iron overload in her body and suffered near-fatal illness (severe bone marrow suppression- Agranulocytosis) for which she was brought to BLK Super Speciality Hospital for the first time in February 2017. She was successfully managed and she recovered from this fatal illness.

In August 2017, the family revisited BLK and decided to go for Bone Marrow Transplant. The child was admitted to the Hospital for BMT procedure on October 31, 2017. On the day of admission, the procedures, complexities and possible outcomes were again discussed in detail with the parents, who gave written consent, after having understood the risks/complication including sepsis, graft vs. host disease and graft rejection. After undergoing the established protocols for conditioning, she underwent BMT procedure on November 11, 2017. The child was regularly monitored as per standard protocols.

Post-transplant, the child developed transplant-related mucositis (Ulcerative condition of Gastro Intestinal tract- which is seen in majority of transplant cases) which progressed and developed into Neutropenic Enterocolitis. It is important to mention that Neutropenic Enterocolitis is an endogenous infection due to migration of gut-flora to bloodstream and is not a hospital-acquired infection.

On 21st Nov, 2017, the child developed abdominal pain with gradually increasing abdominal distention. Over next 24 hours, the child developed progressive respiratory distress (breathing difficulty). After counselling the parents, the child was shifted to ICU for close monitoring and further management. The child was given appropriate treatment. Parents were present with the child throughout the stay in the Hospital. The Family was apprised on regular basis at every stage of the transplant course.

The child developed low blood pressure, bleeding from lungs, kidney dysfunction and required increasing respiratory support including ventilation. The child was managed with dialysis and medications to maintain blood pressure.

The child was diagnosed to be suffering from Post-BMT Neutropenic Enterocolitis, Refractive Septic Shock, Disseminated Intravascular Coagulation and Multi-Organ-Dysfunction Syndrome.

It is not correct to say that the family was not informed or counselled about the critical condition of the child. In fact, the family and one close relative, who also happens to be a doctor and was present most of the time with the parents, were regularly counselled.

Despite all our best efforts, the child, unfortunately, succumbed to the complications on November 25, 2017. It is submitted that Neutropenic Enterocolitis is a dreaded complication with very high mortality.

It is not correct to say that the mortal remains of the child were held-back for want of payment of bills. At no point of time, the family was forced to settle the dues before the handover of the body. It is strongly denied that there was any delay in handing over the mortal remains of the child to the family.

The team of Bone Marrow Transplant physicians at BLK is one of the most competent and reputed teams in India. The Team has conducted over 800 transplants over the last 6 years. The outcomes of transplant procedures are reported to National Registry (Indian Stem Cell Transplant Registry where number of transplants and outcomes are reported without breach of confidentiality) regularly.

We stand by the family in their hour of grief and sorrow.

BLK Super Speciality Hospital stands by its values as a responsible healthcare institution."
2 comment(s) on After Fortis, Max, now BL Kapur Hospital faces allegations of medical negligence