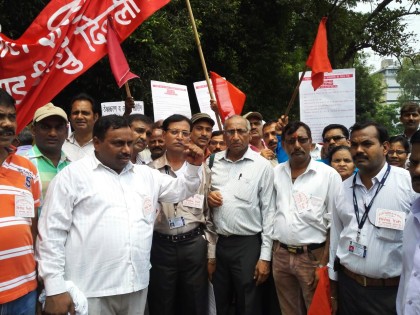 After seeing a series of strikes being organized by doctors in different parts of the nation, the capital today, saw another section of healthcare employees dissenting.
An Association called All India Health employees and workers Confederation organized a rally from Mandi House to Jantar Mantar in the capital today. Having people travelling and coming over from different parts of the nation to participate, the rally came as a desperate resort on the part of paramedical and other healthcare workers(including group C&D employees) to make the central government hear their demands.
The basic demands raised by the association are:-
Stop privatization of healthcare services, outsourcing, as well as contractual hiring.
Finish contractual hiring. Make staff permanent.
Make patient care allowance equivalent to nursing allowance, and implement it to all the staff on the lines of the nursing staff make it a part of the pay as it is for the doctors.
Bring the paramedical staff from the slab of PB1 to PB2
Paramedical Council should be constituted to bring in uniformity
Specify workload and duties for posts, have uniform mechanism throughout India
100% Anukampa Niyukti for the kin of deceased employees.
Make permanent the ASHA and Sahiya workers
Provide uniform and washing to allowance to Asha workers, same as nursing staff.
Review the cadre of the paramedical staff, clerical staff as well as the class IV employees employed in the government hospital
Guarantee the safety and preservation of the dignity at workplace of all healthcare staff.
Mr Ram Kishan, Secretary General of All India Health employees and workers Confederation said – "With the change of the government we had a new hope that this government would do something about our needs, have a dialogue with us and find solutions. But, I feel there is no difference between this government and the previous one. Even then we had to resort to such rallies, and now also we are doing the same thing. We wanted a dialogue, not come on a street. We have resorted to strikes, even hunger strikes, but with no avail. We have now organized this national rally and have people coming over from far off places, whether Pondicherry or Jharkhand to participate. All we want is a dialogue, we know that our demands are genuine."
1 comment(s) on After Resident Doctors, Paramedical Workers of the Government hospitals Dissent.