AIIMS Bhatinda Recruitment: PGI Chandigarh releases 22 vacancies for Senior Resident, SR Demonstrators Posts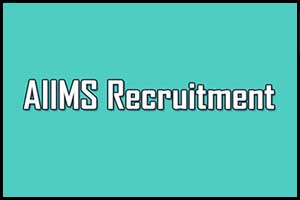 Bhatinda-  The Postgraduate Institute of Medical Education and Research, Chandigarh has released vacancies for 15 (fifteen) posts of Senior Residents and 07 (Seven) posts of Senior Demonstrators in different specialities purely on ad-hoc basis (for a period of six months) for All India Institute of Medical Sciences (AIIMS), Bathinda.
The selection will be done based on the interview.
The Ministry of Health and Family Welfare has declared PGIMER, Chandigarh as the mentor Institute for operationalization of various activities at AIIMS, Bathinda (Punjab).
The new AIIMS at Bhatinda aims at providing super-speciality healthcare to the population while creating a large pool of doctors and other health workers in this region that can be available for primary and secondary level institutions being created under National Health Mission (NHM).
Date of Walk-In-Interview - 10th August 2019
For more details about The Post  Qualification, Age and Pay Allowance click on the given link:
https://medicaljob.in/jobs.php?post_type=&job_tags=aiims+sr+pgimer+jobs&location=&job_sector=all
 Vacancy Details:
Total no of Vacancies: 22
Senior Resident: 15
Senior Demonstrator: 07
The vacancies are in the Department of Anaesthesia, Anatomy, Biochemistry, Dermatology, General Surgery, Hospital Administration, Internal Medicine, Obst. & Gynae., Ophthalmology, Orthopaedics, Otolaryngology (ENT), Physiology, Pediatrics, Hematology, Pharmacology, and Radiology.
Terms & Conditions:
1. The appointment is purely on an ad-hoc basis for six months initially (with effect from the date of joining) or till such time the regular appointments against these vacant posts are made, whichever is earlier. If the adhoc term is not extended further, the same will lapse automatically without assigning any reason. The appointment can also be terminated at any time, on either side, by giving one months notice or by paying one month's salary on failure to perform duties up to the satisfaction of the competent authority.
2. The appointee shall perform the duties as assigned to him/her. The competent authority reserves the right to assign any duty as and when required. No extra/additional remuneration will be admissible in case of such assignment.
3. The appointee shall not be entitled to any benefit like Provident Fund, Pension, Gratuity, Medical Attendance Treatment, Seniority/Promotion, etc. or any other benefits available to the Government servants, appointed on regular basis.
4. All the above posts are meant for All India Institute of Medical Sciences (AIIMS), Bathinda, Punjab. The candidate selected for above Adhoc posts will be posted initially at Baba Farid University of Health Sciences, Faridkot, Punjab and later on, will be shifted to AIIMS, Bathinda, Punjab.
5. The appointee shall be a whole-time employee of the Institute and shall not accept any other assignment, paid or otherwise and shall not engage himself/herself in private practice of any kind during the period.
6. The appointment to the said post will be subject to medical fitness from the competent Medical Board for which he/she will be sent to the designated Medical Authority of the Institute.
7. Leave entitlement of the appointee shall be governed in terms of instructions contained in DoPT&T's O.M. No.12016/3/84-Estt.(L) dated the 12th April 1985 as amended by OM No.12016/1/96-Estt(L) dated the 5th July 1990 and OM No.12016/2/99-Estt(L) dated 12 July 1999.
8. On appointment, the appointee will be required to take an oath of allegiance to the Constitution of India or make a solemn affirmation to that effect in the prescribed proforma.
9. On appointment, the candidate will not have any claim/right whatsoever for the regular posts in the AIIMS, Bathinda, Punjab. Further, this cadre will also not be allowed to merge with the cadre in the Institute.
10. The appointee is not entitled to any TA/DA for attending the interview and joining the Institute.
11. Other conditions of service will be governed by relevant rules and orders issued by Govt. of India from time to time about Adhoc employees.
12. If any declaration is given or information furnished by him/her proves false or if he/she is found to have willfully suppressed any material information, he/she will be liable for removal from service and also such other action as the Institute may deem necessary.
13. The appointee shall not be entitled to avail any allowances/facilities being extended to the regular/permanent faculty members of AIIMS, Bathinda, Punjab.
14. Interested candidates may apply for the post under reference in the prescribed application form available at the Institute website appending therewith copies of self-attested certificates/testimonials and other relevant documents in support of their qualification, experience, and date of birth, etc. and also "No Objection Certificate" from present employer, if working in Govt./Semi Govt./Corporate Body/Undertaking of the Central/State Govt. and in absence of which it may not be possible to allow them to appear for interview. The candidates are also required to produce the original certificates/testimonials at the time of walk-in-interview.