AIIMS Bhopal: Man arrested for conducting Illegal recruitments in hospital premises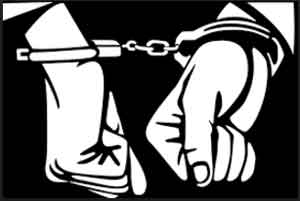 Bhopal: A 21-year-old quack has been arrested by the local police for conducting a 'job interview' for getting jobs at prestigious AIIMS Bhopal. The man was  illegally and extracting money on the pretext of giving job at AIIMS Bhopal by disguising himself as a practicing doctor.

The accused identified as Anand Mishra hails from Gonda district of UP and was residing in Bhopal.

The matter came into light when the employees at the AIIMS Bhopal premises became suspicious after looking at a long queue in the room of a surgical oncologist who was on vacation. When the staffs went to the spot to gather information regarding the queue, they saw the accused sitting comfortably at the in-patient department (IPD) of the main building at the campus. Over two dozen people were present there claiming that they were promised job. The accused was issuing fake recruitment orders.

The fraudster was trapped when the AIIMS staffers and security demanded his identity card. He tried to show himself as a doctor and claimed that his documents were in his vehicle but he was not allowed to move. He was handed over to the security present in the campus and an FIR was lodged in Bagh Sewania police station under section 420 of the IPC.

A source informed the TOI that few candidates who were present there had paid him in advance. Documents and appointment letters with AIIMS logo were found in Mishra's possession.

The CCTV footage showed that in earlier this week he was meeting job seekers around the trauma and emergency wing of the hospital.

AIIMS Bhopal deputy director (administration), Santosh Sohgaura told the TOI "AIIMS-Bhopal staffers and security acted swiftly against the culprit."

According to the Daily Pioneer report, he trickster duped to the tune of Rs 1.2 lakh from two brothers on the pretext of providing a job at the campus.

The victims claimed that a few months ago they came into contact with accused who assured that he could help in getting a Government job and later told that he could help them in getting a job with AIIMS Bhopal, reports the Daily Pioneer.

Later AIIMS Bhopal released a press statement, urging people to be beware of touts and job racketeers trying to deceive by false promises of securing jobs in AIIMS Bhopal, either through influence or by use of unfair means.