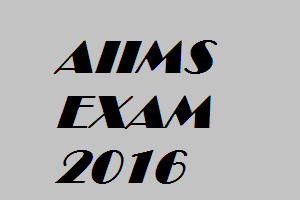 The recent decision by AIIMS to allot the examination centre for the many medical aspirants appearing for the AIIMS-Delhi test on May 29-on a first-come-first-basis has created a lot of confusion in Chandigarh. Chandigarh or Panchkula do not have a exam centres. The only nearby centre is in Mohali. So, if the students are not able to procure a centre reservation in Mohali, quickly, they will have to travel to other nearby centres like Ambala, Bannur, Patiala, Ropar.
This recent decision by AIIMS has put the students in a major fix, as they no longer have a straight choice to choose their exam centre. Instead, the prestigious institute will make them run to choose their choice of centre on a first-cum-first-basis. In other words, they will have to opt for only one centre.
The registration process has already started. So, hurry, to grab a seat by the examination centre- to be allotted on the first come, first serve basis
As reported by Tribune, the candidates can apply online from February 15 till March 15. The exam will be conducted on May 29 and the tentative date for declaration of result is June 14. There will be an open counselling on September 27 after three counseling sessions. There are 72 seats in AIIMS, Delhi, while 100 seats each in six other AIIMS.
However, this decision has created mayhem of confusion for the Chandigarh aspirants. The exact reason given is that after the online system for conducting the AIIMS test was started last year, the city does not have it own centre for examination yet. So if they don't rush for the registration at Mohali (the nearest centre to the city); they will end up spending a lot of time and effort travelling to Ambala, or any other nearby centre.
As reported by HT on the exact details, Mohali is the closest centre allotted for appearing for the exam. Few others in Punjab include Ludhiana, Ropar, Sangrur, Jalandhar, Amritsar, Bathinda, among other cities. The exam was made online from last year and even then Chandigarh didn't have a single centre.
Neha, a resident of Sector 18, said , "It would have made things for city aspirants much simpler, if there was a centre in Chandigarh. Now we'll have to figure where to go. Considering so many people apply for the AIIMS exam from UT, I wonder what made the authorities take this decision."
For more details on the exam click on the following link:-
0 comment(s) on AIIMS- First-cum-first allocation of exam centre creates utter confusion