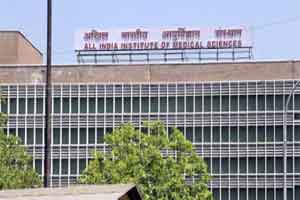 AIIMS to join government run E-portal for appointments


3 other hospitals join the online bandwagon  

Premier healthcare hospitals are now more committed to bring web-based solace to patients who seek a breakthrough everyday from long queues of treatment. Under the able leadership of Shri Narendra Modiji, who is considered as an epitome of digital initiatives in government-led communication, four leading healthcare service providers in India, have jointly joined an e-portal run by the government.

All India Institute of Medical Sciences (AIIMS), Ram Manohar Lohia (RML) Hospital, National Institute of Mental Health and Neuro Sciences (NIMHANS) and Sports Injury Centre (SIC), will now offer booking appointments for out-patient-department (OPD) check-ups and diagnostics online. Besides, the patients can also seek details of blood type availability, and get their lab reports online.

The project has been running on a pilot basis at AIIMS, where the patients who have once procured the permanent Unique Health Identification Number (UHID), mandatory at the hospital, can continue to take their appointments online.  All that is required is to furnish an identity proof with the Aadhar Card doing the trick here.

This administrative step is imminent to ease the rush in the government run hospitals, which have a huge footfall of patient's right in the morning. It has led to many confusions and chaos in the hospital premises, with many returning back with disappointment as the senior doctor is not available on the same day. The outside rush, from out of station patients is also huge, as patients seek to get critical treatment the day they visit. This initiative will help ease the congestion, and help the system work in a more objective way.