AIIMS Patna experts call for statutory laws to regulate Human Genome Editing in India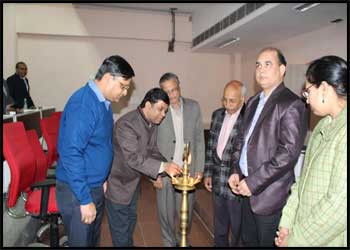 Genetic enhancement or 'designer babies' has been described as the greatest public allurement for the application of CRISPR- Cas9 technique
Patna: Medical experts from the various departments at AIIMS, Patna organized an interdisciplinary seminar on 15.01.2019 to discuss the promises, risks, and ethical concerns of human genome editing in medical practice and research.
The issue was raised following the recent incidence of birth of the genetically edited IVF babies in China, where ethical concerns were ignored. CRISPR has emerged as a promising gene editing technique which can be used to eliminate many human diseases.
Read Also: First genetically modified babies: Breakthrough or Violation 
"The existing form of CRISPR may also introduce new errors in human genome, which may have serious consequences on the individual's health. Rampant use of genome editing may also destabilise genome pool of a human population, in turn, may cause more gene-based diseases like cancers and birth anomalies", said Dr Ashutosh Kumar, Assistant professor in Department of Anatomy at AIIMS, Patna.
IVF applications of CRISPR mediated genome editing has a great allurement to treat many challenging medical diseases. But extensive laboratory research and analysis of results for complete knowledge is required before its safe applications in humans, embryos or fetuses, said Dr Monika Anant, a senior faculty in Obstetrics and Gynecology at AIIMS, Patna. A similar view was presented by Dr Lokesh Tiwari, a senior faculty and HOD in Paediatric Medicine.
In India, though a guideline issued by the ICMR prevents from any germline/embryonic genome editing, any statutory regulation which can deter its unethical use is still lacking. Genetic enhancement or 'designer babies' has been described as the greatest public allurement for the application of CRISPR- Cas9 technique. "Though any genetic enhancement is still theoretical, the CRISPR mediated human genome editing is relatively easy and cheaper, which makes it vulnerable for unpermitted use. Statutory laws to regulate human genome editing is need of time", said Dr Binod Pati, a senior faculty in the Department of Microbiology.
These experts had unanimous agreement on the statutory regulations to prevent an unethical use of human genome editing. "All clinical uses of this technique should be restricted with stringent laws until its safety is established through adequate scientific research", was the common statement issued by the group of experts.
Human genome editing is a public health concern hence common public should be made aware of the risks and possible legal issues arising of it, they should be made part of any policy decision on this issue. Educating the common people on promises and risks of human genome editing will be a responsibility for us.
In future, we shall arrange more such events, media has an important role in this regard" said Dr Sanjib Kumar Ghosh, the senior faculty and HOD, Anatomy. It is necessary that medical residents and students get aware of this emerging technique and its medical implications as no later it has to be a public health concern. Educating the medical students on CRISPR mediated genome editing was one of the purposes of organizing this seminar, said Dr. Ravi Kant Narayan, Senior resident doctor at Department of Anatomy.
Experts from many medical departments as Microbiology, Biochemistry, OBS & Gynae, Paediatric medicine gave the presentation at the event. At the end of the session, a panel discussion was organised where senior faculties from departments of Biochemistry, Haematology, Paediatric surgery, and Medical oncology replied to questions raised on the issue.
The event was inaugurated by honourable Director, AIIMS, Patna, and attended by the faculties, residents, and students.