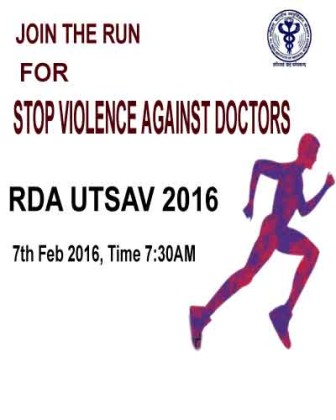 New Delhi: To create awareness on the growing issue of Violence Against Doctors, this year's AIIMS RDA UTSAV will see an event dedicated against such crimes . The resident doctors association at AIIMS is organising a 5 km marathon starting from AIIMS on the 7th February, 2016, 7.30 am onwards to unite doctors against this growing issue.
In the past few years, the incidences of violence against doctors and medical professionals have been heavily on the rise.  Medical Science, not being an exact science does not always lead to desirable outcomes. Unfortunately, for every mishap that happens in the hospitals, doctors, and in particular, resident doctors are held responsible and are exposed to violence at the hands of agitated attendants. This particular act, not only being illegal, but are also acts against humanity and those who are termed as saviours of humanity.
To create awareness about the issue and re-create the losing trust between patients and doctors, RDA AIIMS is organising this marathon. The "Medicos RUN for UNITY" will start on the Sunday, 7th February, 2016 and will start at 7.30 am in the morning. The length of the marathon is 5 kms, with Start and End point being at AIIMS.
Speaking to Medical Dialogues, Dr Tarun Arora, RDA President, AIIMS said, " We have already received hundreds of registrations from the medical fraternity, desiring to participate in the marathon. We are expecting at least 2000 doctors to participate in the program on that day."
Dr Pankaj Solanki, President FORDA said," Looking at the recent incidences where heinous acts of violence against doctors have taken place throughout the country, such an event is of utmost importance, to unite the medical profession against violence and to create awareness about the issue amongst general public."
The run will see participation from all resident doctors including senior faculties from AIIMS and government hospitals in the capital. To participate in this event, Please register on the following link
https://www.medicaldialogues.in/aiims-rdautsav-2016/
0 comment(s) on New Delhi: AIIMS to organise marathon on Violence Against Doctors