AIIMS Whistleblower, Sanjeev Chaturvedi bestowed with Magasaysay award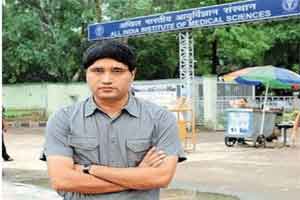 He has been recognized for attaching corruption directly at AIIMS, and is now awaiting the permission from the centre to join Arvind Kejriwal's team as Chief Vigilance Officer

Whistleblower, Sanjeev Chaturvedi has so far treaded the path of honesty, and anti-corruption boldly, even after he suffered setbacks in his career. Chaturvedi has finally got a token of appreciation by winning the Ramon Magasaysay award, one of Asia's best-known, which honours integrity in governance and public service. However, he is reported to still be out of job.

Recognising him for his contribution in the anti-corruption field, is the Delhi Chief Minister who has sought final clearance from the centre to appoint Sanjeev Chaturvedi as a Chief Vigilance officer of his team.

Chaturvedi was in the news recently after he was expelled from AIIMS for checking corruption in Delhi. Reportedly, he was working with the Indian Forest Department, and ran into bureaucratic troubles thereafter.

Sanjeev Chaturvedi was appointed as the Deputy Director of All India Institute of Medical Sciences (AIIMS), Delhi in 2012, and was given an additional charge of Chief Vigilance Officer (CVO) at AIIMS. During his stint at AIIMS, Chaturvedi exposed the network of few doctors who were making irregular foreign trips, which were not authorized officially. There were many corruption cases exposed, charge sheets filed, and cases refereed to CBI for criminal investigation, under his vigilance supervision. Chaturvedi met with unconditional support from his colleagues, before he was officially removed from the post of CVO in 2014. However, he continued to retain the position of Deputy Director at AIIMS.

Sanjeev Chaturvedi raised the issue of his removal as the CVO with the then health minister Harsh Vardhan, alleging that his removal was a conspiracy by the corrupt officials.Sanjeev Chaturvedi's reinstatement as the CVO was supported by the AIIMS staff, who wrote a letter to the Prime Minister asking on the issue. Chaturvedi, during this period in 2014, is believed to have raised voice against the Union Health Minister, JP Nadda accusing him of his removal from the post. Harsh Vardhan, however, has a completely different official statement of the affair, clearly stating Charurvedi's appointment as CVO was not commissioned properly. Hence, he has only been retained as the Deputy Director at AIIMS.