................................ Advertisement ................................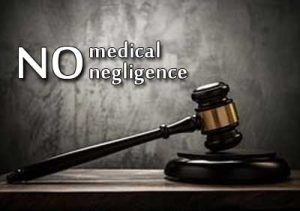 Kolkata: The West Bengal Medical Council has absolved a paediatrician accused of medical negligence in connection to the death of a two and a half-year-old child at AMRI hospital last year.
The incident goes back to January 2018, when a child was brought to the hospital at Mukundapur with the complaints of fever and bronchitis. The treating paediatrician, Dr Jayati Sengupta advised to get her admitted at the hospital.  Two days later, when the child was about to be discharged, she died in the hospital.
Following the death of the child, her father approached the West Bengal Medical Council and the Chief Minister
The complainant alleged that augmentin injection was administered to the child after which she developed severe respiratory problems and convulsion. It was further alleged that the child was not given enough oxygen to assist her breathing due to which she collapsed to death. The hospital management had denied any such allegations of injecting augmentin.
The medical council went through the entire matter and mentioned that the allegation of augmentin causing the death of the child cannot be proved. It noted that even an anaphylactic reaction cannot cause such death.
................................ Advertisement ................................
Read Also: CM Yogi Adityanath Suspends Medical Superintendent, orders probe in alleged Medical Negligence case
The medical council went through the autopsy report and confirmed that no specific conclusion can be reached regarding the cause of death.
Based on the evidence, West Bengal Medical Council issued a judgment where it found "no deficiency of service and negligence" from the end of the treating doctor.
The judgment stated, "The commission concludes that there was no deficiency of service or negligence on part of Dr Jayati Sengupta or other attending doctors in this case," quotes the TOI.
The AMRI administration through a press release welcomed the decision by which faith in the system was given.
On the other side, the family of the deceased child will knock the doors of the court to challenge the judgment given by the state medical council.
The mother of the child told the TOI, "The council never called us once during the hearing, apart from asking us to submit a written statement. I was shocked after getting the copy of the verdict. We will not give up and approach the court of law."
Shagufta Joined Medical Dialogues has been associated as Editor for Education Medical Dialogues since the year 2018.  She is a graduate from Delhi University. She can be contacted at editorial@medicaldialogues.in Contact no. 011-43720751
................................ Advertisement ................................
2 comment(s) on Alleged death due to Inj Augmentin Administration: Medical Council gives clean chit to Paediatrician