Almost 50 percent Deliveries in private hospitals by C section: MOS Health Tells parliament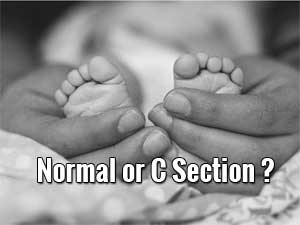 New Delhi: Revealing shocking statistics about the modalities of childbirth in the private medical institutions in the country, the Minister of State for Health and Family Welfare (MOS Health) Shri Ashwini Kumar Choubey recently informed that Rajya Sabha that almost 50 per cent of deliveries taking place in the private hospitals are via C section
Responding to the question whether many private hospitals are indulging in caesarean section and not normal deliveries, the Minister informed that 
As per National Family Health Survey –IV (2015-16), the percentage of births by Caesarean Section in private health facilities is 40.9%, the Minister informed.
The figures as way higher than what the World Health Organisation has prescribed in this regard.
WHO in its statement released in April 2015 states that, at the population level, caesarean section rates higher than 10% are not associated with reductions in maternal and newborn mortality rates.
When asked about the steps taken by the government to address this issue the minister replied that the Government of India has taken several measures to curb unnecessary C sections. The centre provides continuous guidance, strict monitoring and directives to the states for regulation of high caesarean section rates.
 WHO statement 2015 on Caesarean section, has been shared with the Principal Secretaries, Mission Directors of all States and UTs and Federation of Obstetrical and Gynecologists in India (FOGSI) vide OM M.12015/182/2015-MCH in order to prevent unnecessary C sections.
 States have been asked to conduct periodic prescription audits in private sector as well as in public sector.
 All CGHS empanelled hospitals have been directed to display the information regarding ratio of deliveries by caesarean section vis-à-vis normal deliveries. A communication was sent in this regard vide OM Z15025/2017 to all the CGHS empanelled hospitals.
 Guidelines on Midwifery Services in India has been disseminated for promoting natural birthing
Medical Dialogues had earlier reported that in 2018 WHO had released guidelines on Non-Clinical Interventions to Reduce Unnecessary Caesarean Sections The guidelines called for
 A structured, mandatory second opinion for caesarean section indication in clinical settings is recommended to reduce caesarean births.
Read Also: Mandatory Second Opinion to reduce Unnecessary C-Sections: WHO 2018 Guidelines