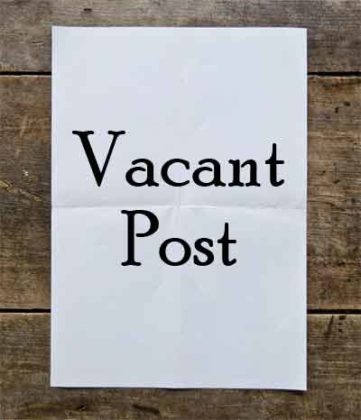 New Delhi: A total of 4089 posts including 305 Faculty posts have been sanctioned for each of six new AIIMS at Bhopal, Bhubaneswar, Jodhpur, Patna, Raipur and Rishikesh, MOS Health, Ashwani Kumar Choubey informed the parliament recently.
The minister, responding to query raised by Member of parliament, Shri Ambika Soni informed that vacant faculty posts are being advertised regularly by the Institutes depending on their requirement. However, as high standards have to be maintained in selection, keeping in view the stature of these Institutes of National Importance, all the advertised positions could not be filled up, he added and that recruitment to various positions is done on need basis keeping in view the additional services and facilities planned to be added in the hospitals.
His detailed response, however pointed out to high number of vacant posts with 899 of the 1830 posts with most of the new AIIMS having more than 50% of vacancies
................................ Advertisement ................................
At AIIMS Bhopal, out of the 305 sanctioned posts for faculty, 142 are filled while 163 are lying vacant. However, 121 Faculty posts have been advertised and the Recruitment process is going on.
At AIIMS Bhubaneswar, 122 of the total 305 faculty posts are lying vacant. This is after the institute hired 70 faculty members, who have joined in the last year. Recruitment process for Faculty post in many is going on.
At AIIMS Jodhpur of the total 305 sanctioned posts 146 are filled while 159 lie vacant. Recruitment exercise for 103 Faculty posts is going on.
At AIIMS Patna, whooping 184 posts out of the total 305 faculty posts are lying vacant. Recruitment exercise for vacant Faculty posts is going on.
At AIIMS Raipur  out of 305 posts, 127 are filled while 178 still lie vacant
At AIIMS Rishikesh, out of 305 posts, 212 are filled and 93 lie vacant
As regards AIIMS New Delhi, the minister informed that there are 680 Faculty members working in the Institute and 30 assistant professors are working on contract basis to meet the requirement for different Departments. Further, process for filling up of 172 Vacant Faculty posts has also been initiated.
To facilitate expeditious filling up of vacancies, separate Standing Selection Committee (SSCs) have been constituted for each of the aforesaid six AIIMS. Also, recruitment exercises are being held periodically in all the six AIIMS. A number of steps were highlighted by the minister to expedite the hiring at AIIMS.
................................ Advertisement ................................
The upper age limit for direct recruitment against the posts of Professor and Additional Professor in the six AIIMS has been raised from the present 50 years to 58 years. This will expected to make available experienced willing faculty of various Government Medical Colleges.
Filling up of vacant Faculty posts in the new AIIMS by taking serving Faculty from Government Medical Colleges/Institutes on deputation basis has also been allowed. Contractual engagement of retired Faculty of Government Medical Colleges/Institutes has also been allowed to meet the shortage of Faculty in the six new AIIMS. System of Walk-in-interview for engagement of Faculty on contract basis has also been introduced.
Visiting Faculty Scheme in new AIIMS has been formulated to allow national and international faculty to work in new AIIMS for teaching and academic purposes. Overseas Citizens of India have been allowed to join as teaching faculty in new AIIMS.
A sub-committee of the respective Governing Body of six new AIIMS has also been constituted to consider and approve recommendations of the respective Standing Selection Committee of six new AIIMS for expediting the process of Faculty selection.
Services of Senior Residents and Junior Residents are also utilized for patient care.
PRESENT POSITION OF FACULTY POSTS AGAINST SANCTIONED POSTS IN SIX NEW AIIMS  
AIIMS
 

Faculty Posts

Sanctioned Posts
Posts filled at present
Posts vacant at present
Remarks/Progress of recruitment exercises
Bhopal
Professor
54
17
37
 

121 Faculty posts have been advertised.   Recruitment process is going on.

 

End of April 2019.

Additional Professor
45
16
29
Associate professor
81
51
30
Assistant

Professor

125
58
67
Total
305
142
163
Bhubaneswar
 

Professor

54
17
37
 

Two advertisements have been made during the last one year to fill up these vacant faculty posts which resulted joining of 70 new faculty members.

 

Selection process for engagement of contractual faculty in several Departments has been completed.

 

Recruitment process for Faculty post in rest of departments is going on.

Additional Professor
45
20
25
Associate professor
81
46
35
Assistant Professor
125
100
25
Total
305
183
122
Jodhpur
 

Professor

54
16
38
45 Faculty posts were advertised in November, 2017 and 121 Faculty posts were again advertised in January, 2018, wherein 45 candidates have been selected for faculty positions. Out of which, 21 Faculty have joined the Institute till date and extension for joining has been given to 11 candidates.

 

73 Faculty posts were advertised in July, 2018. The interview was held on 21st and 22nd October, 2018.

 

Recruitment exercise for 103 Faculty posts is going on.

Additional Professor
45
11
34
Associate professor
81
49
32
Assistant Professor
125
70
55
Total
305
146
159
Patna
Professor
54
11
43
Recruitment exercise for vacant Faculty posts is going on.
Additional Professor
45
8
37
Associate professor
81
44
37
Assistant Professor
125
58
65
Total
305
121
184
Raipur
Professor
54
11
43
183 Faculty posts were advertised in September, 2018. Scrutiny Process for 545 applications received is going on.

 

The interview will be conducted in phased manner and the same is planned to start from 2nd week of December 2018 and to be completed by March 2019. The efforts will be made to fill up super- specialty posts first.

Additional Professor
45
12
33
Associate professor
81
28
53
Assistant Professor
125
76
49
Total
305
127
178
Rishikesh
Professor
54
29
25
Institute has advertised various Faculty positions for various speciality and super-speciality departments time to time on direct recruitment, deputation and contractual basis.

 

Interviews for various advertised posts are scheduled in month of December 2018.

Additional Professor
45
28
17
Associate professor
81
43
38
Assistant Professor
125
112
13
Total
305
212
93
Total
1830
931
899
Medical Dialogues Bureau consists of a team of passionate medical/scientific writers, led by doctors and healthcare researchers.  Our team efforts to bring you updated and timely news about the important happenings of the medical and healthcare sector. Our editorial team can be reached at editorial@medicaldialogues.in. Check out more about our bureau/team here
14 comment(s) on Almost 50 percent faculty posts at 6 new AIIMS Vacant: Minister apprises Parliament