Ambulance Scam hits Congress Leaders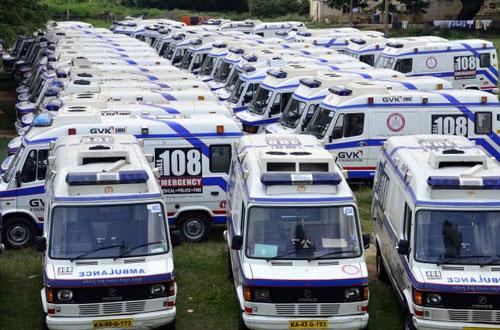 Rajasthan: CBI has taken over probe in the ambulance scam of Rajasthan in which it re-registered FIR of the state police naming former Chief Minister Ashok Gehlot, ex-Union Minister Sachin Pilot, Karthi Chidambaram, Ravi Krishna among others as accused. CBI on Friday carried out searches at the office of the firm Ziqitza Health Care in Jaipur and Mumbai against which a case has been registered.

FIR no. 256/2014 was registered at Ashok Nagar Police station in Jaipur after BJP government was formed last year on the complaint of Jaipur Mayor Pankaj Joshi on July 31, 2014. At the request of Rajasthan government, the case was transferred to CBI which has now re-registered it under the Anti-Corruption Unit of the agency here. "The FIR was registered against the then Directors of the private firm at Mumbai/Jaipur and others including public servants under section 420 (cheating), 467 (forgery), 468, 471 and 120-B of IPC on the allegations of irregularities in the award of tender in favour of the said firm by deliberately inserting technical specifications and irregularities in the implementation of the project which included excess bills claimed by said firm and paid to them," CBI spokesperson said.

The FIR registered by the state government has named Gehlot and alleged Directors of the company Pilot, Karthi (son of former Union Minister P Chidambaram), Ravi Krishna (son of former Union Minister Vayalar Ravi), Ziqitza Health Care, its Director Sweta Mangal, the then Health Minister of the state Duru Mirza and the the Director National Rural Health Mission, CBI sources said.

The scam dates back to 2009 when Krishna's company, Ziqitza Healthcare, a company run by Ravi Krishna, received a tender to operate 108 ambulances across Rajasthan, Bihar and Punjab. An audit was conducted after the BJP's allegations that Krishna's company was being paid money for ambulances which were on record only on paper, after which huge financial irregularities in the way the ambulances were operated, with losses amounting to Rs. 14 crore.

Pilot has said he had resigned from the company in late 2002 or early 2003 (before he became MP) when it decided to become a "for profit" company from the "non-profit" venture as he was associated with it only for social cause.

CBI has claimed that the period of the alleged crime is between 2010-13. It is alleged in the case that ambulance services of 108 number were set up in erstwhile Vasundhra Raje government which were provided by a company EMR.

The complainant alleged that when Gehlot government came they found alleged irregularities in the services and recommended that fresh tenders be called for plying ambulances in the state. CBI sources said it is alleged the terms of tenders were tweaked in such a way (making it mandatory for the ambulances to have GPS among others) that it favoured Ziqitza Health Care making it the sole bidder. They said it is alleged that 450 such ambulances were put in service for 35 districts.

The sources said a complaint about alleged irregularities was made before the then Union Health Minister Gulam Nabi Azad who ordered an inquiry by CAG which found irregularities in the filing of bills and deficiency in the services.

When Raje government returned to power, a police complaint was filed before Jaipur police, they said adding that the state government wrote asking CBI to take over the probe. They said it is a normal practice for CBI to take over probe from state police on the basis of FIR registered by them which is re-registered as it is.

Pilot and Gehlot have termed it as "vendetta politics" of BJP government. "This action by CBI is on the prodding of Raje government and is nothing but a meek, vendetta-driven malicious prosecution. They (state government) had been investigating this matter for the past few years and have not been been able to make any headway," Pilot said. Pilot has already sent a legal notice to Joshi, who was the complainant in the case, as the senior Congress  leader said that he had resigned from the ambulance service provider when it became a "for profit" venture.

"The company was established as a 'non-profit' venture and I joined the company because of tragic death of my father in a road accident. Once they decided to convert it into 'for profit' venture, sometime in 2002, I quit as I told them I cannot be associated with it any longer," he said.

He said the resignation was tendered before he became MP in 2004.

This has already started a series of verbal spats between the Congress and the BJP. "It is a politically motivated step. The names of Ashok Gehlot and Sachin Pilot have been dragged into this case because they are the leaders of Congress in Rajasthan,"  Congress leader Pratap Singh Kachriwas told ANI. "The 108 ambulance scam is legally not a scam but a politically motivated issue. They are making a ruckus over a mere two-to-three crores. It is a baseless allegation," he added.