................................ Advertisement ................................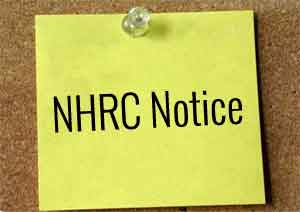 New Delhi: The National Human Rights Commission, NHRC has issued a notice to the Government of Uttar Pradesh through its Chief Secretary after taking suo motu cognizance of a media report about a patient amputated leg placed as a pillow at Maharani Laxmi Bai Medical College in Jhansi.
The Chief Secretary has been given four weeks to submit a detailed report in the matter. Besides this, the Secretary, Union Ministry of Health and Family Welfare has been asked to submit a report whether any instructions/guidelines on the subject have been issued to the doctors/hospitals along with status of mechanism to monitor their implementation, across the country.
While issuing the notices, the Commission has observed that the incident demands not only fair investigation and action against the guilty public servants but also issuance of necessary directions/guidelines to all the hospitals regarding strict compliance of the standard norms for disposal of the Bio Medical Waste and amputated organs so that such incidents do not recur in future.
................................ Advertisement ................................
The commission has further observed that the contents of the media reports, if true, amount to unethical and negligent act done by the doctors/nurses which is not only in violation of the medical norms but also amounts to violation of right to dignity of the patient who was already undergoing trauma, due to amputation of his leg.
................................ Advertisement ................................
The Commission said that it is hard to understand as to how a reasonable person could do such an unfair act. As per Bio-Medical Waste (Management and Handling) Rules 2016, notified by the Ministry of Environment, Forest and Climate Change, Government of India on 28th March, 2016, the amputated leg of the patient should have been disposed off in the "Yellow Box" meant for the amputated human organs. Even if, any medico-legal aspect was there in this case, it should have been immediately kept in the Lab. The amputated leg, once detached from the body, could also be a reason for any kind of infection to the patient and others who were present in the hospital ward.
According to the media reports, carried today on the 12th March, 2018, the victim claimed that the hospital staff used his amputated leg under his head as a pillow. Reportedly, the Principal of Maharani Laxmi Bai Medical College, Jhansi has assured strict action against the guilty. She has stated that a committee has been set up to find out as to who put the severed leg under the patient's head. As per her statement, the patient was given immediate medical aid and the doctor looked for something to raise his head when the patient's attendant used the leg for the same. Two doctors and two nurses have been placed under suspension and departmental action has been ordered against one doctor.
The Deputy Chief Minister of Uttar Pradesh has, reportedly, said that the State Government will take action only once proper information about the incident is received.
Read Also: Man's severed leg used as a pillow: Yogi announces Rs 2 lakh compensation
Read Also: Patient Leg Used as Headrest at Medical College: Two Resident Doctors suspended
Medical Dialogues Bureau consists of a team of passionate medical/scientific writers, led by doctors and healthcare researchers.  Our team efforts to bring you updated and timely news about the important happenings of the medical and healthcare sector. Our editorial team can be reached at editorial@medicaldialogues.in. Check out more about our bureau/team here
0 comment(s) on Amputated leg placed as a pillow: NHRC notices to UP Govt, Health Ministry