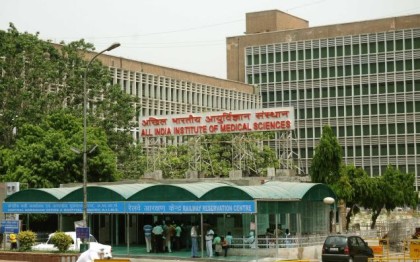 New Delhi: All India Institute of Medical Sciences (AIIMS) here will open on Sunday the country's first retail facility to sell drugs for cancer and cardiovascular diseases at highly discounted rates.
Conceived in a bid to reduce the cost of treating the two health issues that are on the rise in India, Union Health and Family Welfare Minister J.P. Nadda will launch the Amrit (Affordable Medicines and Reliable Implants for Treatment) Retail Pharmacy at AIIMS here tomorrow to dispense medicines and interventional cardiology implants.
Government of India owned HLL Lifecare Ltd (HLL) will establish and run Amrit Pharmacy, which will sell both drugs and implants at significant discount on market rates, based on authentic prescriptions from doctors.
"To begin with, HLL will dispense 195 oncology drugs, 186 cardiovascular drugs and 148 cardiac implants through Amrit pharmacy," HLL Chairman and Managing Director Dr. M. Ayyappan said here today.
"Initially, the pharmacy will retail cancer drugs. By this month-end, it will commence the dispensing of cardiovascular drugs and implants in line with the cancer drugs."
Based on the outcome of the AIIMS outlet, this initiative will be taken to other central government hospitals and Regional Cancer Centres, he added.
Some of the prices of the Amrit Pharmacy drugs are strikingly low. As an instance, Amrit will sell 'Docetaxel 120mg' used for chemotherapy cycle at Rs. 888.75 (93% rebate) for one cycle, when the MRP of the injection is Rs. 13,440. Similarly, Caboplatin 450 mg would be sold at Rs. 1316.25 while its MRP is at Rs. 2561.57.
The government's move comes amid disturbing statistics that peg Indians diagnosed with cancer at 700,00 every year. An official report says 2.8 million people have cancer at any point of time and half a million die of the disease each year. The annual figure of women being diagnosed with breast cancer in India is 145,000, according to the World Health Organisation.
Cancer treatment in India has been largely unaffordable for the poor and the middle class, given it costs Rs. 2.5 lakh for six months of treatment.
What's more, cancer drug market is unregulated, thus riddled with high prices as compared to their product cost. Retailers charge dynamic rates based on the patient's income group, offering marginal discounts. This results in most of the middle-class patients ending up paying 70 to 80 per cent of the MRP.
A significant number of patients (nearly over 50 per cent) stop visiting hospitals after two or three cycles of chemotherapy due to unaffordable costs. Some breast-cancer patients need targeted treatment drugs, which cost around Rs. 75,000 for a course; a patient could need up to 17 courses.
Similarly, a drug used to treat colon, kidney, lung and gall bladder cancer can add around Rs. 8 lakh to a patient's bill, which is at around Rs. 1 lakh a cycle. (ANI)
0 comment(s) on Amrit outlet in AIIMS to provide affordable drugs for cancer and heart diseases