AMU: Attendants try to kill doctor by throwing him off the hospital building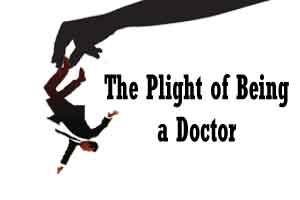 Aligarh: The incidences of violence against doctors, took a very ugly shape at Aligarh Muslim University (AMU) when the attendants of a patient tried to kill/injure a resident doctor by throwing him from the second floor of the hospital building.

The incident goes back to Thursday, when a patient, age 70 years admitted in critical condition to the Jawahar Lal Nehru Medical College and hospital at AMU. The critical situation of the patient was duly explained to the attendants and the doctors made all the efforts trying to save the patient. However, the patient could not survive. The attendants on seeing the deceased patient, got angry and began beating up the resident doctors on duty. The angry mob, then took a resident doctor and tried to throw him off the building and in their acts of intimidation, hung the poor doctor with his feet upside down. Other doctors tried to intervene, but could not as they feared, that the attendants would drop the doctor, if they physically intervened. The security guard who was present at the occasion, tried to stop the assaulters and was heavily beaten up. He has now got fractured ribs due to the assault. Another person,who tried to intervene is now suffering from a broken nose.

Post the incident, the  700 resident doctors working at the medical college,have declared a complete shut down of the hospital, since then. Even the emergency services have stopped, till the doctors see the authorities and the police taking action against the culprit.

Speaking to Medical Dialogues, Dr Tabish Khan, RDA President AMU said, " We are sick of authorities giving us assurances about lowering instances of violence. This time, it has reached the limits. The resident doctor could have died, if they had actually managed to throw him off the building. We will not return back to work till the authorities provide us proper protection against these incidences."