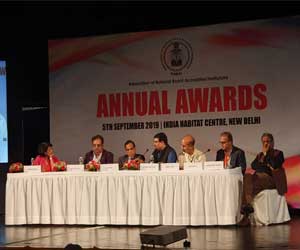 New Delhi: Recognising the major contributions of medical teachers across the country to the development of the medical fraternity, the Association of National Board Accredited Institutions (ANBAI) today organised Teacher's Day Celebrations in New Delhi.
The event saw participation from several dignitaries from the MCI as well as NBE including Dr VK Paul (Chairman MCI Board of Governors), Dr Abhijit Sheth ( President NBE), Dr Rashmikant Dave (Executive Director,NBE), renowned cardiac surgeon, Dr Devi Shetty, and Dr Alexander Thomas, President ANBAI and many more
Many important discussions on matters of medical education were discussed including the national medical commission, mid level practitioners, integration of DNB courses were discussed. Officials from the MCI as well as the NBE reiterated their commitment to increase PG Medical Seats in the country and to ensure that the ratio of PG Medical Seats to MBBS reaches 1:1.
................................ Advertisement ................................
Speaking on the occasion, Dr Alex Thomas, President, ANBAI, requested Dr VK Paul, Chairman MCI BOG to once again review the MD-DNB equivalence criteria that particularly calls for 1 year additional SR ship for even those candidates who have pursued their DNB SS from less than 500 bedded hospital. " This causes additional burden for super-specialists who have pursued their DNB SS from single speciality hospitals as being single speciality, the hospitals generally have less than 500 beds," he said.
................................ Advertisement ................................
The event also saw honours being bestowed upon eminent medical educationists in the form of Outstanding Teacher Awards recognising their contributions in advancing medical education in various hospitals. Devi Prasad Shetty renowned cardiac surgeon and entrepreneur was conferred with the Lifetime Achievement Award
Other awards include the following
Outstanding Outstanding Teacher Amongst Clinicians Award
Dr. Sudhir K Kapoor-Delhi
Dr. B Balaraju- Telangana
Dr. D S Rana – Delhi
Distinguished Nurses Award
Ms. Leena Chandrasekaran-Tamil Nadu
Mr.Sijimol Mathew-Delhi
Pioneer Faculty Award
Dr.P.K.Pruthi- Delhi
Rising Talent Award
Dr. Kanav Anand- Delhi
Innovative Teaching Award
Dr.Hemachand k Prasad-Tamil Nadu
Best Chapter Award
Dr.Venkatesh Krishnamoorthy, President, Karnataka Chapter
The birth date of the second President of India, Sarvepalli Radhakrishnan, 5 September 1888, has been celebrated as Teacher's Day in India since 1962.
Author Details
Medical Dialogues Bureau consists of a team of passionate medical/scientific writers, led by doctors and healthcare researchers.  Our team efforts to bring you updated and timely news about the important happenings of the medical and healthcare sector. Our editorial team can be reached at editorial@medicaldialogues.in. Check out more about our bureau/team here
................................ Advertisement ................................
1 comment(s) on Eminent DNB Medical Teachers honored on Teachers day